Key points:
The Cosmos (ATOM) price has fallen 24.58% in 2022 but recently hit support.
The ATOM price has risen today after bouncing off a critical support level.
Will the rally continue in future, given the project's long term utility?
Cosmos is also known as the internet of blockchains, with its native token being ATOM. We shall examine the token's performance in the recent past and, more importantly, try to predict where the coin might be headed.

Firstly, cosmos is a blockchain project with a massive use case that has made it one of the top cryptocurrencies by market capitalization. Furthermore, it was ranked number 22 among the thousands of crypto projects available.
While the project's long term value lies in its ability to help developers create secure blockchain projects while evading the scalability, usability and interoperability limitations of the learning blockchain networks, which are Bitcoin and Ethereum.
Cosmos is trying to create a new self-sustaining ecosystem that allows blockchains to communicate via a set of open-source tools, including Tendermint, IBC, and its proprietary SDK.
Cosmos (ATOM) price prediction
Going back to the cosmos (ATOM) price prediction, the crypto has fallen to the $23.82 support level, where it found some support and bounced back higher. The move is very similar to what happened with Bitcoin, as the leading cryptocurrency also found support and pushed higher.
It remains to be seen if Bitcoin prices shall keep rising and continue supporting other cryptocurrencies like Atom, whose price action mirrors Bitcoin's.
If the ATOM price holds above the support zone, we are likely to get a move higher back to the $32 resistance zone, but it has to clear the $26, $28, and 430 round levels before it can reach the top resistance zone.
The ATOM price today pulled back at $25.50 but was making another move higher at the time of writing. Only time will tell if the ATOM price shall keep rising or if it will break the latest support zone and head lower.
The Cosmos price has fallen 24.58% this year, and many are looking forward to a turnaround in future.
*This is not investment advice.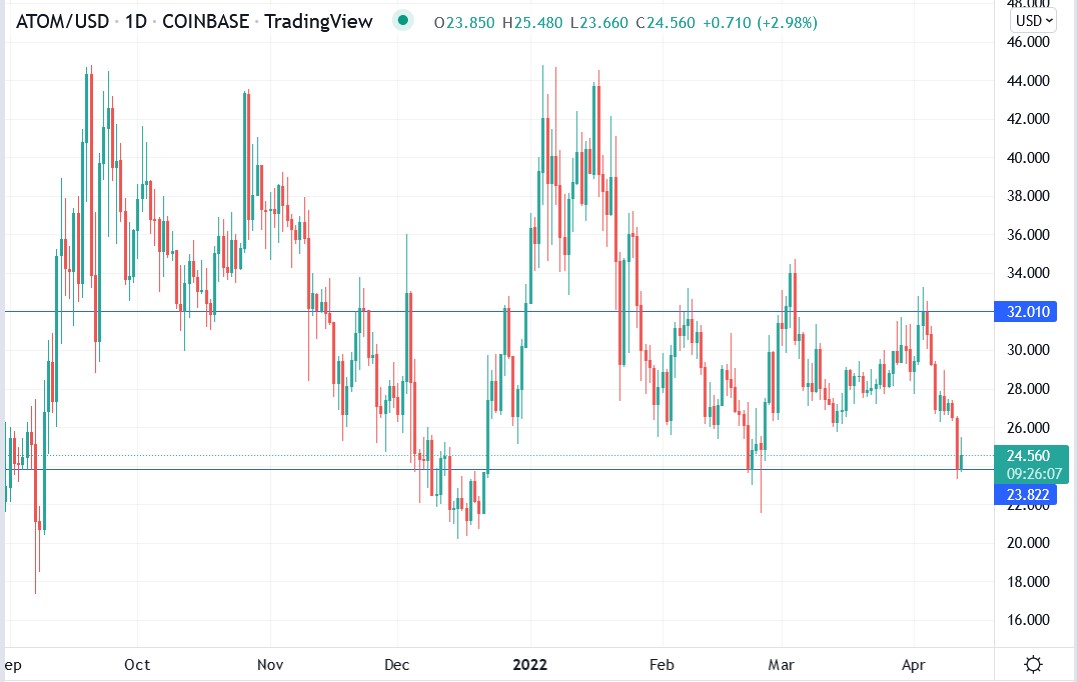 Cosmos' (ATOM) daily price chart shows that the crypto is rebounding from a crucial support level.