Key points:
Daily Mirror owner Reach plc shares plunged 23.4% on 4-month results.
Investors reacted harshly to its lower revenues despite valid reasons.
However, RCH shares might turn around due to its growth strategy.
The shares of Reach Plc (LON: RCH), the British publishing group behind Daily Mirror, Daily Express, and Daily Star, plunged 23.4% after reporting a decline in its overall group revenue.

The company attributed the decline in its overall revenues to the Russian invasion of Ukraine, which led to a lower volume of 'brand safe' content that advertisers across its various publications could use.
The company, which publishes over 240 regional papers and its national papers, added that it experienced a 4.2% decline in its print revenues, driven primarily by higher production costs due to rising inflation.
Reach Plc's print revenues were hit by a 5.7% decline in circulation revenue and a 10.1% decline in advertising revenues. Still, a 21.6% surge in printing and other revenues offset most of the company's losses leading to a slight 0.9% overall loss in group revenues.
Investors reacted harshly to the four-month report covering 27 December 2021 to 24 April 2022 as the company holds its annual general meeting (AGM) today. However, a crucial highlight of the report was that the group's digital revenues surged 9% compared to a similar period last year.
Reach attributed the higher digital revenues to the growth experienced in its high yielding revenue streams, including PLUS+, which has become a significant part of its product mix.
Jim Mullen, Reach plc CEO, said: "We're developing a more sustainable and profitable long-term future for the business, with the delivery of the strategy progressing well, despite a more challenging economic backdrop. The effective collection and use of data are supporting the growth of our higher-yielding digital products, which are becoming an increasing part of our revenue mix. We've taken swift action to address the impact of inflation on our cost base, and the business remains strongly cash generative, supporting the investment in data and technology that is key to future growth."
Investors might have overreacted to Reach plc's results, which could set up an excellent buying opportunity in future once the stock prints a few green days.
*This is not investment advice. Always do your due diligence before making investment decisions.
Reach share price.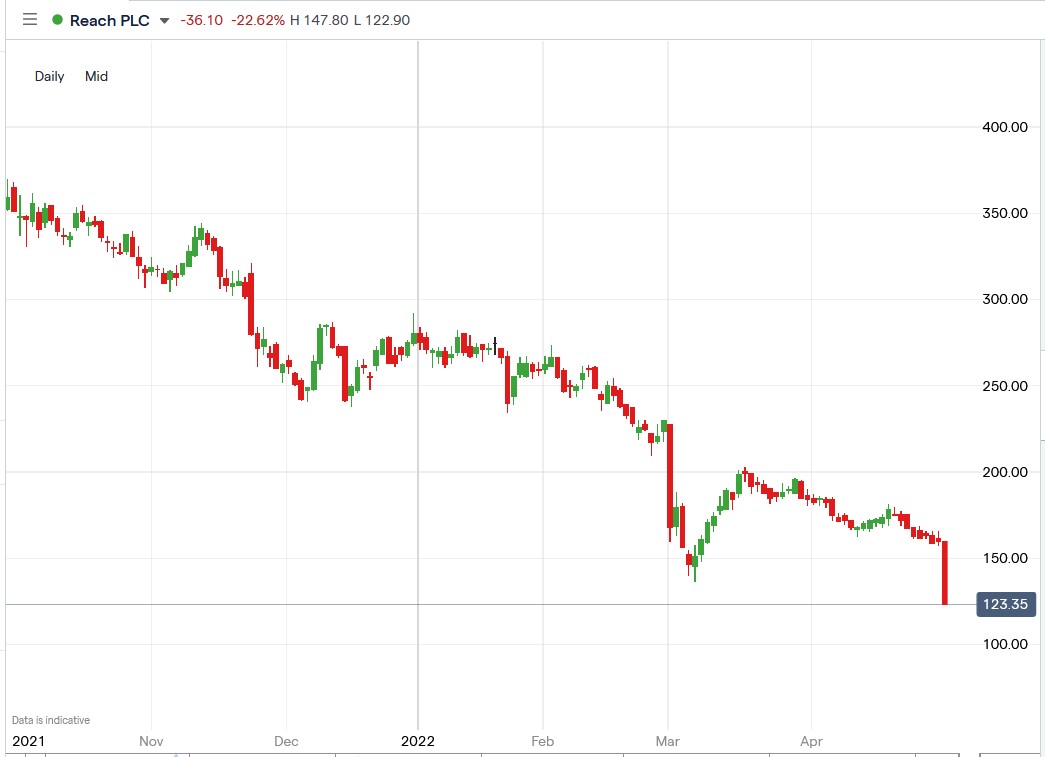 Reach shares plunged 23.36% to trade at 122.55p, falling from Wednesday's closing price of 159.90p.