Key points:
Darkrace reports a Q1 trading update
The company reiterated full-year guidance
However, it warned about potential FX headwinds
Darktrace shares moved lower early on Wednesday
Darktrace (LON: DARK) shares are down over 3% in early Wednesday trading after the cybersecurity firm released its fiscal first quarter 2023 trading update.

The company reiterated guidance for the full-year 2023. However, it continues to monitor foreign exchange movements for their potential impact on the business. The company's September results were as expected, so it maintained its previous guidance and commentary but said it is watching FX rates and their potential effect on revenue.
"Darktrace is maintaining its expectation for FY 2023 year-over-year revenue growth of between 30% and 33%, though it will continue to monitor FX rates, and their potential impacts on revenue, for downside movement relative to rates at this reporting date," the company stated.
"To reflect that future FY 2023 revenues are likely to experience increasing drag from FX rate impacts, however, Darktrace now expects that 46% to 47% of its revenue will be recognised in the first half of FY 2023 (previously 45% to 46%)."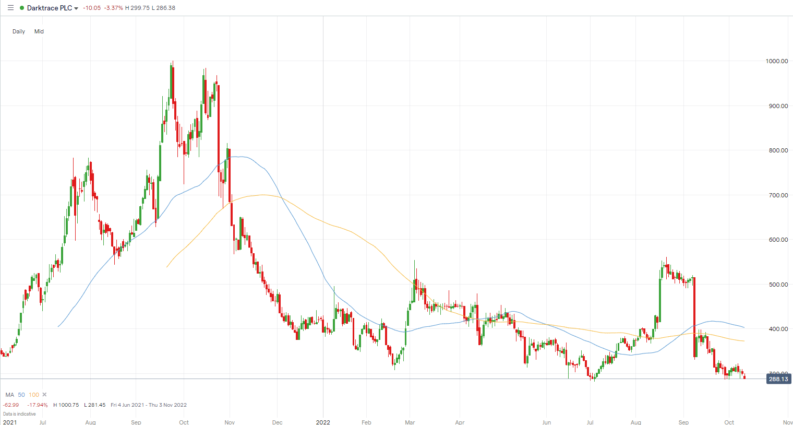 Also Read: The Top Defense Stocks To Buy in 2022
In the first quarter, the cybersecurity AI company said it grew its customer base by 320 net new customers to 7,757, representing a 29.1% year-over-year increase. As a result, Darktrace's net Annual Recurring Revenue (ARR) added for the first quarter was $26.6m, up 13.4% compared to the same quarter last year, in line with the company's expectations for first-quarter net ARR additions. Revenue for the period was $126.3 million, up 37% compared to the previous year.
Commenting on the impact of FX rates once again, Darktrace stated it is now also reporting USD ARR. Darktrace's USD ARR at September 30 was $494.4 million, with exchange rate movements creating a $17.1 million headwind, which the company said is likely to impact the conversion of constant currency ARR to USD revenue for the rest of FY 2023.
Darktrace CFO Cathy Graham said the business maintained "strong sales activity through the first quarter of FY 2023."
"We expect this momentum to be further supported across the rest of this financial year as we complete the phased roll-out of our new PREVENT product family. These products started to be made available to existing and new customers in mid-first quarter, and in September drove a significant increase in upsell proof of value ("POV") deployments within our customer base. We believe that PREVENT product sales should start making positive contributions to our ARR growth and net retention measures in the second half of FY 2023," added Graham.