Key points:
Deepverge shares plunged 18.4% after releasing its H1 2022 results.
However, its revenues soared, driven by its Modern Water division.
The Skin Trust Club also did well, as detailed below.
So, should you buy DVRG shares? Read on to find out.
The Deepverge PLC (LON: DVRG) share price plunged 18.4% after releasing its unaudited results for the first six months of 2022. The company generated revenues worth £6.47 million, representing a 95% improvement from the £3.32 million recorded in H1 2021.

The company had £8.87 million in booked orders for delivery in H2 2022 compared to orders worth £3.91 million in a similar period last year. The company's board expects to generate over £18 million in revenues this year, missing analysts' average expectations.
Also read: The Best Undervalued Stocks To Watch In 2022.
Deepverge's Modern Water division continued to outperform after its revenues soared 116% in one month, bringing the value of its total orders up to June to £6.5 million compared to last year's total of £3 million.
The company's Labskin and Skin Trust Club business units also performed well during the first six months of 2022. The firm generated over £1 million in sales on the Skin Trust Club marketplace, which was launched earlier in the year.
The Skin Trust Club had 27,000 members at the end of June, with 42.5% having skin conditions that could benefit from skin care products. The club's marketplace attracted 24 vendors who added over 300 products, with another 200 pending.
Gerard Brandon, CEO DeepVerge plc, commented: "H1 2022 has been another exceptional fast growth period for DeepVerge. Modern Water is in the right place at the right time to deal with the global water crisis. Also, Skin Trust Club has hit a rich vein of consumer desire to take control by personalising the skin care industry, which can be seen by the rush of skin care products being added to the Skin Trust Club marketplace, which only began in Q1; this year."
The CEO noted that even though the company's annual revenues might be lower than its previous guidance, sales and orders across all its business divisions increased rapidly despite the uncertain geopolitical and macroeconomic climate.
So, should you buy Deepverge shares? DVRG shares have risen 27% in the past month and are likely headed higher. I would buy the shares on a pullback to the 12p support level or a break of the 16p resistance level.
*This is not investment advice. Always do your due diligence before making investment decisions.
Deepverge share price.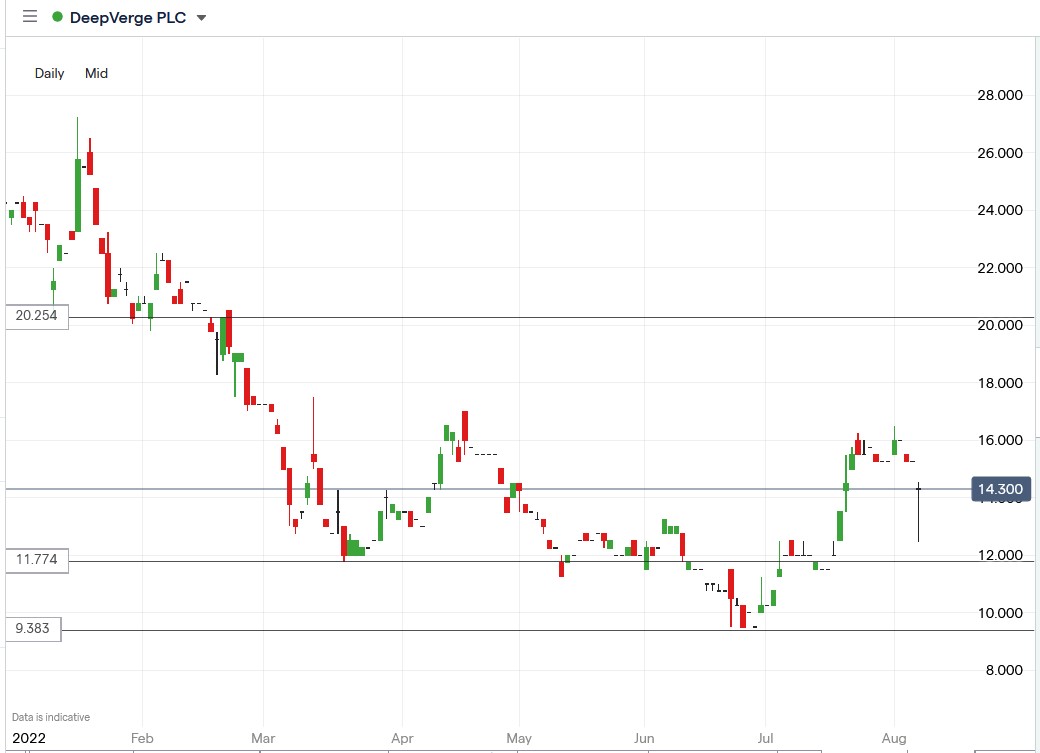 Deepverge share price plunged 18.36% to trade at 12.45p, falling from Thursday's closing price of 15.25p.