Key points:
Deepverge shares rallied 6.4% after installing the first Microtox®PD units.
Investors cheered the announcement, as evidenced by the rally in DVRG shares.
However, many hope that today's move will soon lead to a sustained rally.
The Deepverge PLC (LON: DVRG) share price rallied 6.4% after revealing that it had installed the first batch of its Modern Water Post-Pandemic Microtox®PD pathogen detection systems in wastewater systems across the United Kingdom.

The company has installed six wastewater monitoring systems at various sites across the UK as part of the Environmental Monitoring for Health Protection (EMHP) programme, spearheaded by the Joint Biosecurity Centre, part of NHS Test & Trace.
The monitoring program also includes other participants such as Defra, academic institutions and water companies. The six units installed are worth £480,000, as outlined in a press release on 28 October 2021.
Deepverge also said that the installed units were not part of the £5 million order of Modern Water units announced on 11 March 2022. The company also expects to install more of its Microtox®PD systems in the UK within the next few months.
The Microtox®PD detection system is an automated real-time system developed in response to the coronavirus pandemic that has since been expanded to include other disease pathogens, including infectious viruses and bacteria.
The system can now identify Influenza A, PMMoV, Polio and Influenza B in wastewater and E.coli in drinking water using a single AI chip in real-time. The system can help government agencies track areas where the above diseases emerge, which will inform their response to such disease outbreaks.
Investors cheered today's announcement, evidenced by Deepverge's share price rally. However, the crucial question here is whether today's rally shall translate into a sustained rally over the next few days.
Gerry Brandon, DeepVerge's CEO, commented: "As part of the Environmental Monitoring for Health Protection programme, the Microtox®PD equipment is continuously updated to meet local conditions and information captured is used to build a range of datasets for comparative analysis for the health and safety of the local and regional populations. The installations are important as their routine use will serve as a model for other regional, national and ultimately the global authorities looking for innovative ways to improve the health, safety and overall outcomes of the population from endemic and global pandemic diseases. These are cornerstone installations for us as we commercialise our unique Microtox®PD COVID19 virus and multiplex detection systems."
Deepverge shares are trading above a long-term support level, which could support a rally higher. However, a break below the level would invalidate the bullish thesis.
*This is not investment advice. Always do your due diligence before making investment decisions.
Deepverge share price.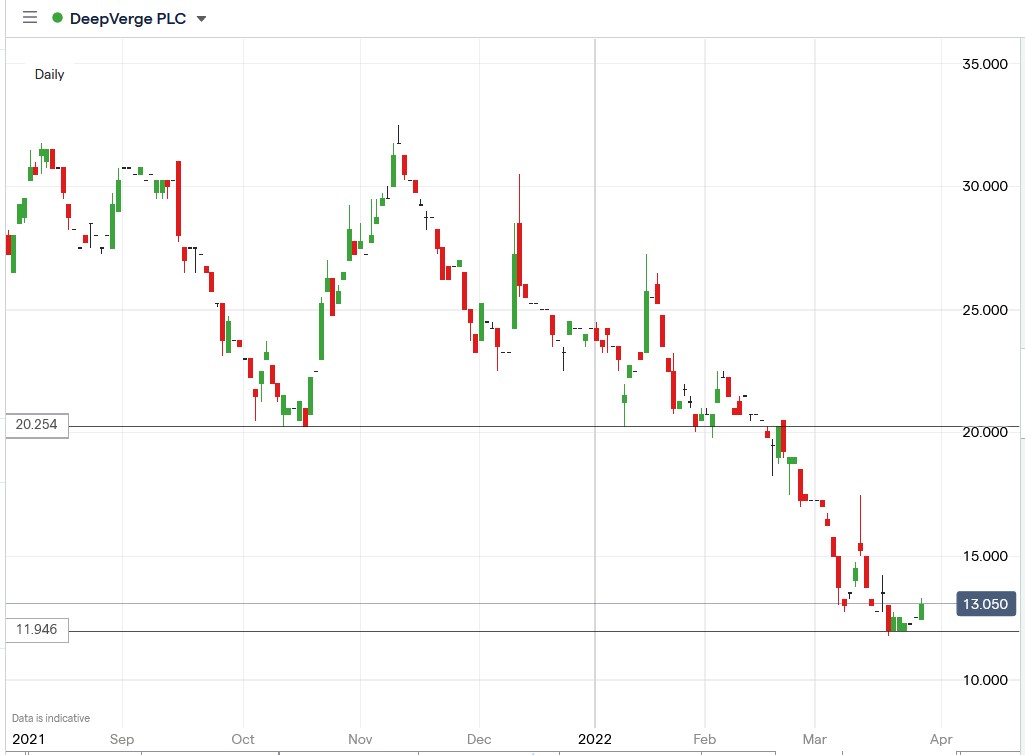 Deepverge shares edged 6.4% higher to trade at 13.30p, rising from Friday's closing price of 12.50p.