Key points:
Rolls-Royce shares plunged 10.1% as takeover rumours wore off.
Investors' hopes about a potential acquisition took a backseat today.
Instead, many are watching to see how RR's management steers it.
The Rolls-Royce Holding PLC (LON: RR.) share price plunged 10.1% today following its impressive 19%+ rally on Friday triggered by rumours that the company could announce a takeover bid anytime soon.

On Friday, investors reacted positively to a report on the Betaville website saying that Rolls-Royce was about to be involved in "a significant corporate transaction" with an unidentified company interested in acquiring the firm.
However, investors are trimming their expectations since Rolls-Royce has not made an official announcement regarding the proposed takeover. Moreover, many experts have opined that the British government would block the potential sale of Rolls-Royce using its golden share.
Furthermore, this is not the first time that rumours have emerged about the potential acquisition of Rolls-Royce. Similar rumours emerged in 2015 after the company issued a series of profit warnings; the rumours re-emerged in 2020 following the coronavirus-induced selloff.
Another option that might result in an actual sale is if Rolls-Royce was bought by another British firm such as BAE systems since such a takeover would not result in RR being owned by a foreign entity. However, such a move by BAE would mark a significant departure from BAE's current strategy.
Rolls-Royce is also facing another challenge in that the plane engine manufacturer is in the middle of a change in management as its long-serving CEO Warren East is set to leave the company later this year.
The CEO's departure comes months after Anita Frews was appointed as Chairperson of the board in June 2021. Frews took over from Ian Davis as board chair on 1 October 2021.
Many experts have pointed out that it is never a good idea for a company to undertake massive changes in its management team in the middle of a significant reorganisation and turnaround plan.
Rolls-Royce is in the middle of a massive turnaround plan centred around achieving cost savings worth billions and disposing of its non-core business units to remain with its most profitable operating divisions.
A potential takeover of Rolls-Royce is a move that will have to overcome multiple regulatory obstacles. Still, given the rally, investors think such a move might be appropriate for the company. However, only time will tell if a takeover will be announced, with many watching to see how RR's management will react to an actual offer.
*This is not investment advice. Always do your due diligence before making investment decisions.
Rolls-Royce share price.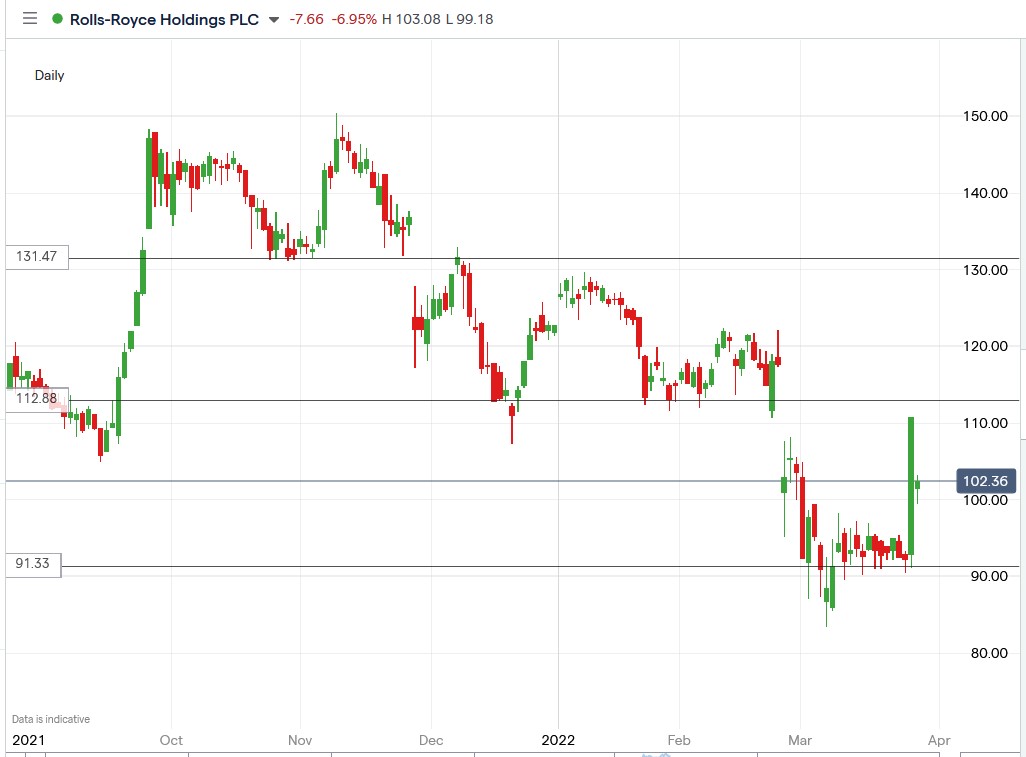 Rolls-Royce shares plunged 10.1% to trade at 99.47p, falling from Friday's closing price of 110.65p.