Key points:
Disney stock price fell despite reports claiming it's making record sales.
The company's move to raise the prices of its theme parks is paying off.
However, will the strategy keep working in the future?
The Walt Disney Co (NYSE: DIS) stock price was trading down 0.61% at writing despite reports that the company's theme parks operating under the Disneyland and Disney World brands were making record sales despite lower visitor numbers.

A report published by the Wall Street Journal says that the company's decision to raise the costs of visiting its theme parks has yielded positive results despite lower visitor numbers since the visitors who make it to its parks are spending much more than they used to before the pandemic.
Also read: 12 Best Shares To Buy As A Beginner.
The report attributes the higher revenues generated by the company to the company's smartphone app known as Genie+, which allows users to skip the line on some attractions for a $15 daily fee per user. However, some premier attractions, the Guardians of the Galaxy and the Star Wars rides, are omitted.
Disney also started charging for extras such as parking fees, eliminating the free parking it used to offer while raising the prices of other complementary items such as food, hotel rooms, and merchandise during the past year.
The report claims that the strategic shift was extremely successful such that Disney's US parks generated record sales in the quarter that ended January 1, 2022. The same trend was witnessed in the quarter that ended July 2, 2022, where the business unit that includes theme parks generated $5.42 billion in revenues.
The division posted record revenues, while its operating income rose to $1.65 billion. However, the question lingering in mind is, with the higher prices, Disney has alienated a significant part of the population that cannot afford to pay the new prices.
How will this trend play out in the coming years as potential customers choose other entertainment spots that are much cheaper than Disney parks? Remember, demand among Disney's client base is likely to wane since a trip to Disney is not something that most people do regularly.
Only time will tell how Disney will fare over time as market fundamentals shift. Still, the strategy seems to be working quite well at the moment.
*This is not investment advice.
Disney stock price.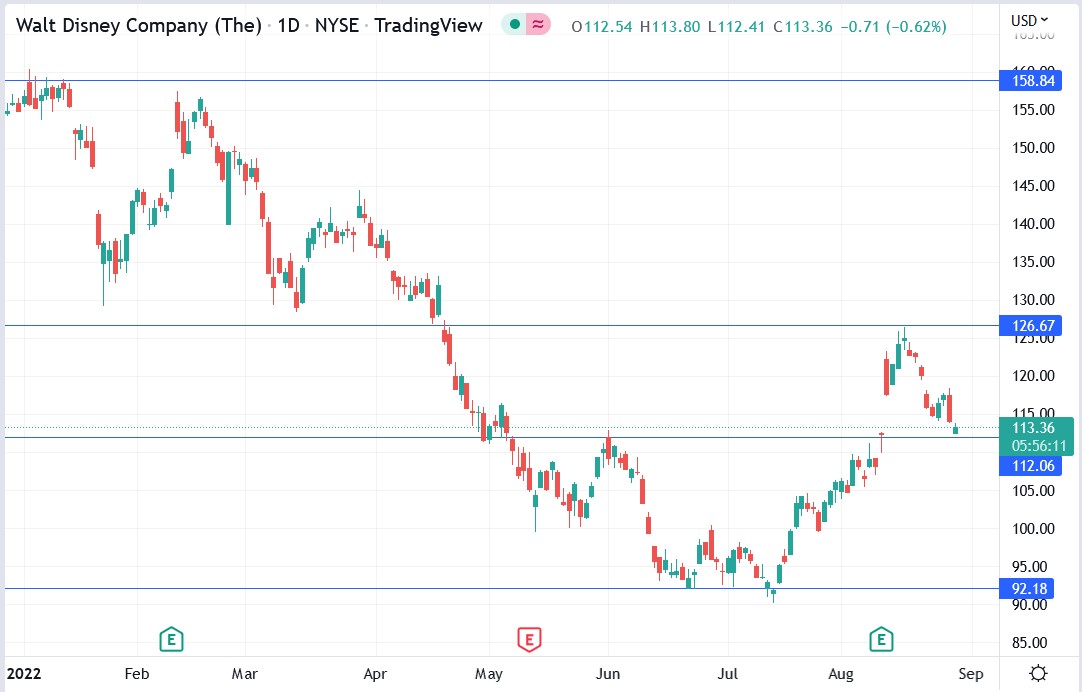 The Disney stock price was trading down 0.61% at $113.36, falling from Friday's closing price of $114.03.