Shares of British home furnishings retailer Dunelm Group plc (LON: DNLM) fell 8.5% despite the company reporting that sales during its second quarter ended December 26, 2020, were up 11.8% despite COVID-19 restrictions.
The company noted that despite being forced to close most of its stores for a four-week period in November, after being classified as a non-essential retailer, there was sustained demand for homewares whenever its stores were open causing it to outperform market averages.
Dunelm expects its H1 pretax profits to come in at £112 million ($153m), which is a significant improvement to the £83.6 million recorded in a similar period last year.

Online sales also contributed significantly to the positive results as the firm's online home delivery business more than doubled as compared to a similar period last year.
Dunelm's Click & Collect service remained popular with customers contributing approximately 30% of 2019 comparable store sales during the periods when its stores were closed.
The retailer's financials remain quite strong given that it had net cash of £141 million as at 26 December 2020 as compared to the net debt of £68 million in a similar period last year. The company also has access to £175 million in approved loan facilities, which is unutilised.
Dunelm reported that 174 of its stores are currently closed due to the COVID-19 restrictions, but that home delivery services continue to operate normally.
Comment from Nick Wilkinson, Dunelm's Chief Executive Officer: "Our strong performance continued into the second quarter, whilst we adapted to the various restrictions and resulting store closures across our estate."
Adding:
We enter 2021 with further restrictions and our primary focus remains the health and wellbeing of our colleagues and customers across the business. Beyond this near term uncertainty, we've never felt more confident about the future."
Dunelm share price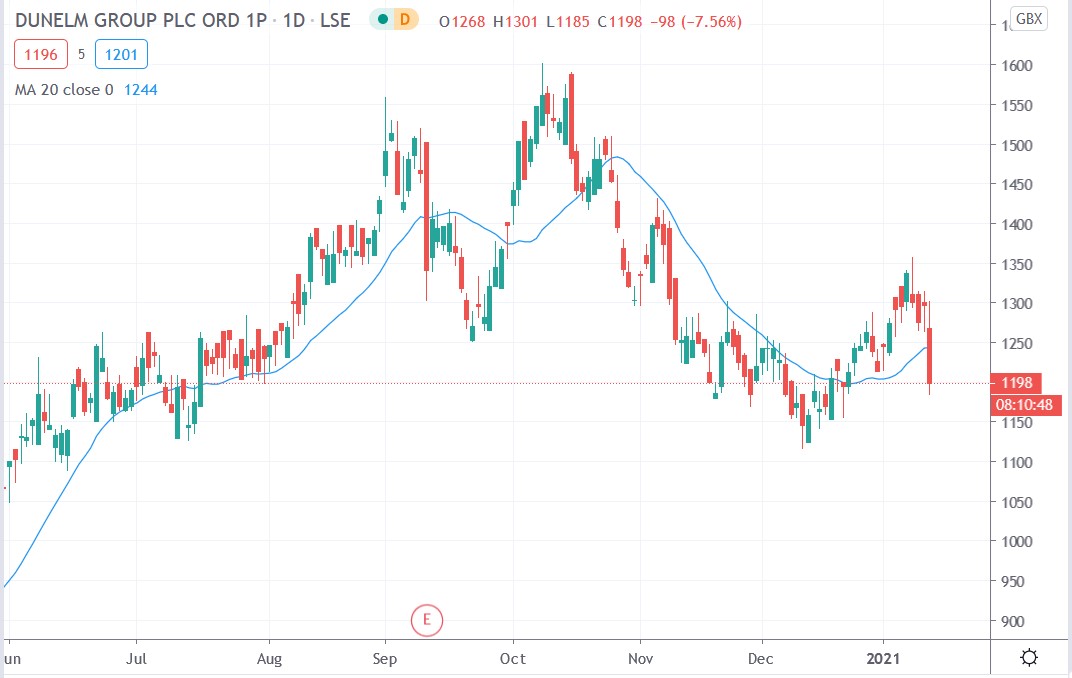 Dunelm shares crashed 8.56% to trade at 1185p having fallen from Wednesday's closing price of 1296p.