Key points:
Ecmoho stock was up 46% premarket as bulls stepped up.
The stock has had massive price swings this month.
The volatility seems far from over, given today's price action.
The Ecmoho Ltd – ADR (NASDAQ: MOHO) stock has been on a rollercoaster over the past month as the bulls and bears fought for control over its stock price. Unfortunately, the Chinese company has not made any significant announcements in the past month to warrant the massive price swings.

Looking at the MOHO stock price chart below, we can see that the stock rallied higher on August 2-3, 2022, after which a massive decline ensued, which saw the stock retrace all its previous gains and trade almost flat for the month as of yesterday.
Also read: Best Breakout Stocks To Buy Right Now.
However, it appears that the bulls were not done with MOHO stock since the stock pushed higher earlier today during the premarket trading session and was up over 46% at writing. Today's move higher has injected renewed volatility into the stock, trading far below the Nasdaq's minimum requirement of $1.00.
Ecmoho prides itself on providing comprehensive health-related services to enterprises that want to sell their health products and services in China. The firm boasts a client base of over 10 million buyers built over the past ten years of operating in China and introducing brands to Chinese consumers.
The last significant announcement from Ecmoho was its upgrade to listing on the Nasdaq Capital Market on March 27, 2022. Unfortunately, its share price has been on a downtrend since hitting a high of $3.23 on February 09, 2022.
MOHO stock is now trading below the $1 minimum mandated by the Nasdaq board. The latest rally dove its shares to $0.48, which is still way below the minimum requirement. As a result, Ecmoho might have no choice but to conduct a reverse stock split to boost its share price and eliminate the risk of being delisted from the Nasdaq growth market.
Meanwhile, the war between the bulls and bears is far from over, as evidenced by today's premarket rally. As a result, only day traders should consider trading MOHO stock, given the stock's volatility. Swing and longer-term traders may be best served by avoiding the stock.
*This is not investment advice.
Ecmoho stock price.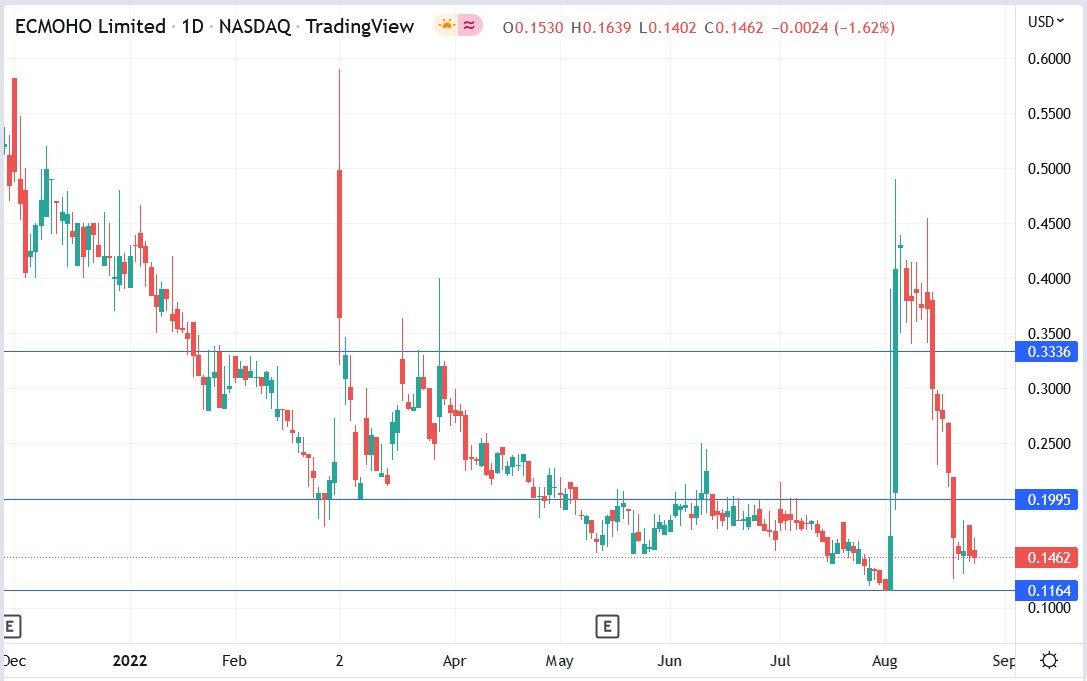 The Ecmoho stock price was up 46.65% premarket to trade at $0.21. after rising from Wednesday's closing price of $0.1462.