Key points:
BP and Shell are wholesale providers – they enjoy the high prices
Centrica is much more of a retail provider suffering from the price cap
There will, at some point, be a reversion but when will that be?
If we were to look for a succinct and reasonably accurate description of the current energy market it's that energy prices boost BP (LON: BP.) and Shell (LON: Shel) but the energy price cap is a horror for Centrica (LON: CNA). It is only reasonably accurate, to be sure, because the positions in the supply chain blur a little. But that's is how we should be looking at the share prices there – for that's the majority of the effect we'll see.

The reason the effects are different is because, well, the companies are different. For the oil majors, Shell and BP, higher oil and gas prices boost profits and revenues. Not quite as much as some think, to be sure, as a very large portion of higher prices is flowing back to governments in higher royalties. But higher prices do indeed mean higher profits at those two companies.
This is also boosted by the Russian effect. Which is a little more subtle than we might think. Both Shell and BP have downstream activities – refineries in effect. And profits there are going like gangbusters. This isn't to do with the global oil price at all, but Russian sanctions. Sanctions in themselves haven't particularly changed the crude oil price even as they have changed which oil goes where. Europe now takes no Russian oil, gets more from – say – Nigeria. But that Nigerian oil used to go to – again, say – the Far East and that's where the Russian oil is now going. There's been a shuffling of crude oil, not a marked change in the amount.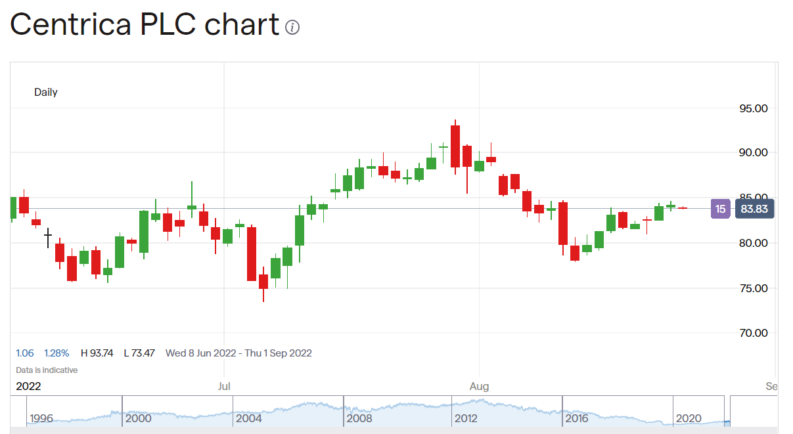 Also Read: The Best Oil Stocks to Buy Right Now
However, Europe used to use a lot of Russian petrol and diesel – which is now also sanctioned. And Europe also doesn't have enough refinery capacity to replace that. So, the gap between crude and petrol prices has risen – or, the same thing, refinery margins have widened. Shell and BP are doing very well out of that.
Centrica's position is very different concerning the UK market at least. Yes, they've some energy production, but the business is dominated by being the retail supplier into the UK market. But that's where the price cap is. They've got to pay those higher, global, wholesale prices but can only charge what the government allows them to. This considerably compresses margins – as we see from all those retail providers – Bulb and the like – who have gone bust. Now, Centrica hedges so it's not so, so, bad – but the capital requirements of hedging are straining even Centrica's balance sheet.
This is not to say that the future is rosy for two and not one, or even the other way around. Energy prices will indeed fall at some point and current difficulties and benefits reverse – when is the thing we don't know. It is though to insist that Shell and BP are largely unaffected by the energy price cap because they're simply not regulated by it. While Centrica most definitely is. On the other hand, Centrica has much less exposure to high profits from high energy prices, while Shell and BP are doing very nicely there.