Key points:
ValiRx shares edged 3.72% higher on the University of Barcelona partnership.
The firm agreed to investigate the potential of KRAS as a cancer treatment.
The positive reaction is good, but I would not buy ValiRx shares now.
The ValiRx Plc (LON: VAL) share price edged 3.72% higher after unveiling a new partnership with the University of Barcelona to evaluate a drug candidate meant to treat cancers.

The evaluation agreement will see ValiRx do multiple preclinical tests on the drug candidate meant to treat KRAS (a GTPase protein made by the oncogene, Kirsten Rat Sarcoma Virus), which causes uterine and pancreatic cancers.
ValiRx will be funding the preclinical tests to the tune of up to £100,000, where it will investigate the drug's mode of action and potential utility as a treatment for KRAS.
Investors lukewarm reaction to the announcement could have been because ValiRx was responsible for funding the tests. Yet, there are no guarantees that the drug will proceed to the clinical trials phase and finally reach the commercial stages.
However, ValiRx is optimistic that the approach being adopted by the Univesity of Barcelona will yield positive results by breaking the previous barriers to transforming KRAS into a packageable drug.
Today's announcement adds to the list of drugs currently being developed by VliRX, including its VAL201 peptide, currently sub-licensed to Theoremrx.
Unlike in the past when positive announcements by Valirx led to pullback and even selloffs, as was the case with Theoemrx, today's announcements generated a positive reaction, albeit a weak one.
Many hope that ValiRx shares, which have fallen 21.31% this year, will reverse course and head higher, but when such a rally could happen is unclear.
The early-stage cancer therapeutics and women's health company is working on multiple therapies, which could be the key to unlocking its full potential if it passes the clinical trial stages and continues to be commercialised.
Dr Suzy Dilly, CEO of ValiRx, commented: "The lead series of drug candidates under evaluation in this agreement have been developed towards a novel interaction with the KRAS protein important in many cancers of high unmet medical need. KRAS has been a target of interest in oncology for many years, and this project has the potential to provide a unique method to impact this important pathway."
The Principal Investigator at the University of Barcelona research group added: "KRAS is a known therapeutic target for several cancers, but it has been undruggable until recently. However, we have found a way to interact with this target. The partnership between the University of Barcelona and ValiRx is essential to accelerate the development of those promising results that we have achieved. This agreement will reinforce the project and provide valuable data to progress towards clinical development."
I wouldn't buy Valirx shares at current prices until we get a sustained rally boosted by a positive announcement over several days.
*This is not investment advice. Always do your due diligence before making investment decisions.
Valirx share price.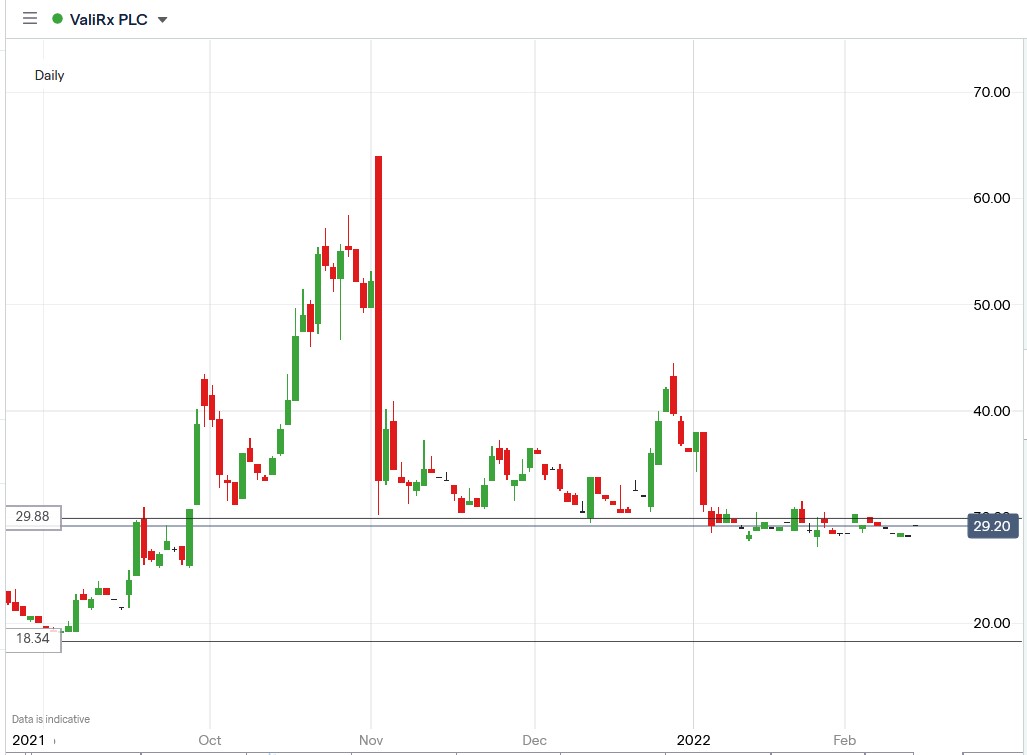 Valirx shares edged 3.72% higher to trade at 29.30p, rising from Friday's closing price of 28.25p.