Key points:
EVgo shares have fallen 60.7% from their November highs.
The shares look attractive at current prices from a short-term perspective.
EVgo's long term prospects are also attractive, making it a buy for investors.
The Evgo Inc (NASDAQ: EVGO) share price has fallen 60.7% from their November 2021 highs amid a broad selloff among high flying growth and tech stocks.

The stock price looks pretty cheap now, and many wonder whether they should scoop up some shares at the current lows.
Firstly, I would buy EVgo shares based on what I can see on the daily chart below, which shows that EVgo stock is trading near all-time lows marked by a support level that has been in place since the company went public in November 2020.
As a short-term trader, this setup is too good to ignore, given that the risk I am taking on is relatively small compared to the upside potential. However, I must warn you that there are no guarantees we will get a rally, but the odds are pretty good.
Switching back to the company's fundamentals, EVgo is expected to grow its revenues to $54 million in 2022 compared to 2021 consensus estimates that it will generate revenues worth $21 million.
We can see from the 2022 revenue estimates that the company could more than double its revenues this year compared to last year, which should reflect in its share price, which is currently hovering around the $7 level.
EVgo shares previously traded at $24 in January 2021, shortly after its IPO. However, the company had much lower revenues, implying that it could trade at much higher prices this year if it generated the expected revenues.
The company, which operates over 800 EV charging stations in the United States and boasts of the highest such network, should benefit from the rising adoption of electric vehicles and plug-in hybrid vehicles.
Therefore, the company's long term fundamental prospects are pretty optimistic, which should provide a significant tailwind for its share price.
EVgo shares have been see-sawing at their current lows for the past week and a half, and soon enough, we shall know which direction the shares will head in next after breaking out of the sideways trending pattern.
I like EVgo shares from both a short-term trader's perspective and as a long term investment; hence, I would buy them at current prices.
*This is not investment advice. Always do your due diligence before making investment decisions.
Evgo stock price.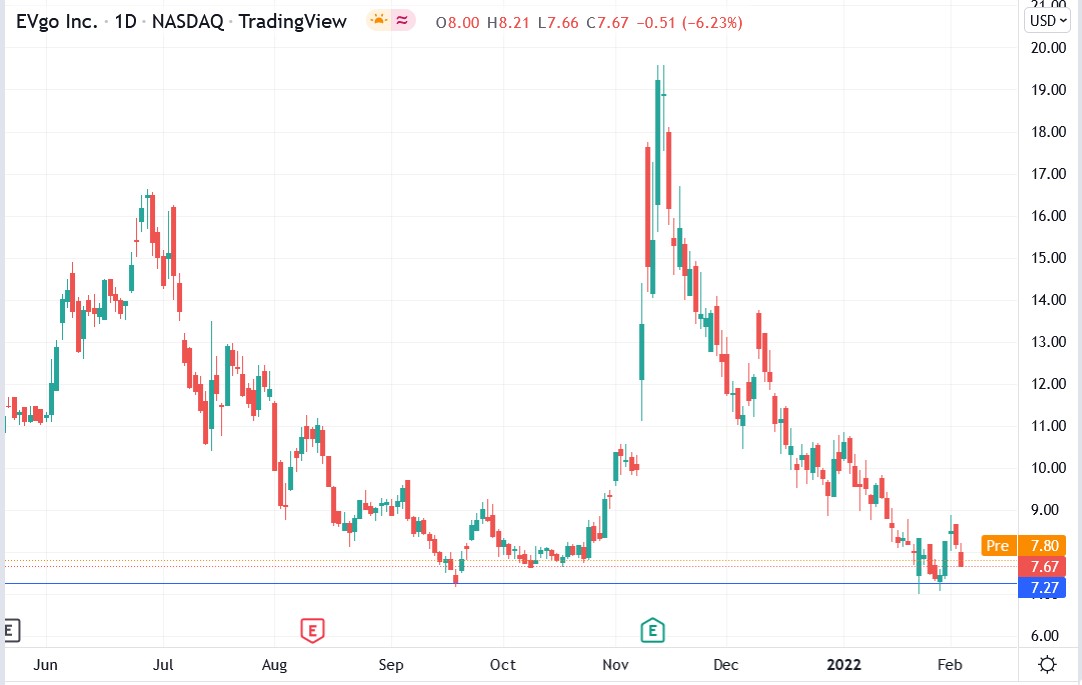 EVgo shares have fallen 60.77% from their November high of $19.55 to their current price of $7.67.