Falcon Oil & Gas Ltd (LON: FOG) shares soared 112.4% after announcing positive test results at its Amungee NW-1H well located in the Beetaloo Sub-basin, Northern Australia.

The company noted that the production test results indicated a normalised gas flow rate equivalent to 5.2-5.8 MMscf/d per 1,000m of horizontal section.
Today's announcement comes after Falcon Oil & Gas announced the start of its 2021 work programme in June this year along with its partner Origin Energy B2 Pty, which is in charge of the current operations at Amungee.
Origin Energy B2 Pty Ltd. is a wholly-owned subsidiary of Origin Energy Limited. The production testing ran from 7 August 2021, with the first 48 hours of testing averaging between 2 – 4 MMscf/d with rates averaging 1.23 MMscf/d over the first 23 days.
Falcon Oil is waiting for further news from its operations at Kyalla 117 N2-1H ST2 and Velkerri 76 S2-1. The company will continue working with our JV partner, Origin, in establishing the next phase of work on the Middle Velkerri B Shale. 
Philip O'Quigley, Falcon Oil & Gas' CEO, said: "With our unique and extensive position in the Beetaloo Sub-basin, this is really exciting news for Falcon shareholders and this significant development provides a line of sight to the commercialisation of the Beetaloo, for which we remain carried for further activity."
Adding: 
"Not only does this test result significantly exceed these parameters and significantly increase our assessment of the Velkerri dry gas play, but it also puts the Beetaloo on a par with other shale gas basins in North America." 
Falcon Oil & Gas share price.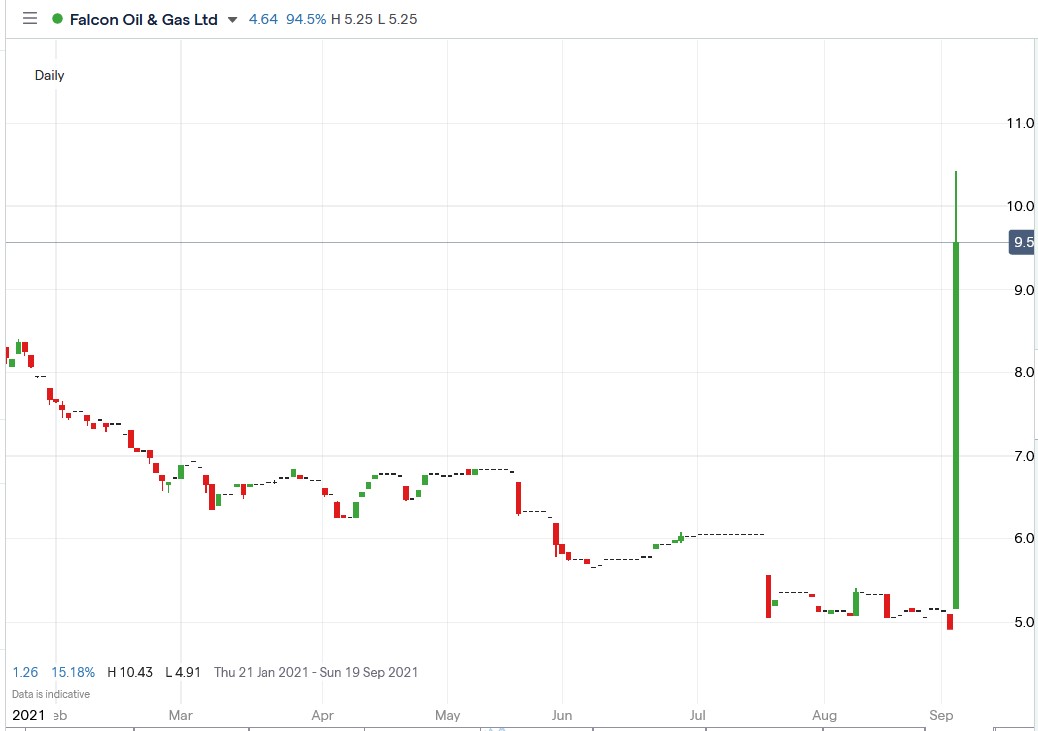 Falcon Oil & Gas shares soared 112.42% to trade at 10.43p, rising from Thursday's closing price of 4.91p.