Key points:
The Ted Baker bid has now arrived at 110p
This is considerably down from that first mooted at 160p
So, is there room for another bidder to make an offer?
The Ted Baker (LON: TED) bid is finally here. It's at a substantial discount to what was first mooted, those months ago, even if at an 18% premium to the price yesterday. The bid is at 110p and the big question is whether there will be another which will disrupt this one. It's possible to think of this in two different ways. One, that Ted Baker's been up for sale for so long now that any interested bidders have all either bid or decided not to. The other is that now someone has actually taken that major step then another bid might come from that crowd who were known to be vaguely interested.

The Ted Baker share price is up at 108p and change. So, given that the current bid is 110p in cash, there's little to no point in trying to arbitrage this bid itself. Making a penny or two in the months until the cash is actually received would indeed be a cash gain. But making one or two percent over months in a 10% inflationary environment is also known as losing money. So, there's no point in trying to stag this bid if that's quite the right word.
On the other hand, TED has been up for sale for many months now. There was at least one group that went through due diligence, several others that expressed at least vague interest. That due diligence was thought to be about a bid at 160p but didn't in fact lead to an offer. But there's that little cloud of people who were thinking about it. Perhaps one of them might come back with a higher than 110p bid? It's possible, even if unlikely.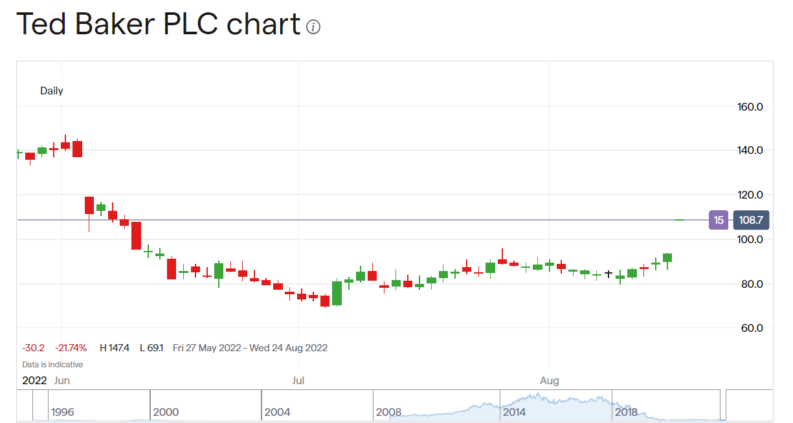 Also Read: A Guide To The Best Clothing Stocks To Buy Right Now
Any valuation of Ted Baker shares therefore needs to depend upon that possibility of another bidder. We've that underpinning of the cash bid at 110p for the current price. The big question thus is what's that possible upside? One possible answer is that there isn't one. As we've reported before, Ted Baker is in trouble. We might even say borked. There was that earlier look at and intended bid for TED which didn;t come off at that higher price. The big price determinant for months now for Ted Baker shares has been, well, what will the takeout price be?
Now we know what one attempted takeout price is, that 110p. " The Acquisition values Ted Baker's existing issued and to be issued ordinary share capital at approximately £211 million and the price of 110 pence per Ted Baker Share". That's the Final Cash Offer which sounds very final indeed. But that's not quite how it works. If another bidder turned up with a better off then the Ted Baker directors would at least have to consider it. So, the question is, do we think there will be another one?
As above, that depends upon what we think of the process so far. Have all those who might bid already made their decision? Or will one of those who were dithering now leap forward given that they might lose the prize?