Key points:
Ford shares rallied 7.5% after announcing a massive reorganisation.
The company is now split into three separate divisions to focus on EVs.
Many are hoping that the changes will make the company more profitable.
The Ford Motor Company's (NYSE: F) share price edged 7.53% higher after announcing the splitting of its legacy internal combustion engine and new electric vehicles units and commercial divisions, each with a dedicated team and separate balance sheets.

Investors cheered the move as Ford committed to having over half of its global sales volume being electric vehicle sales by 2030. The automaker also wants to achieve margins of 10% by 2026, an improvement to its previous goal of an 8% margin.
The move comes at a crucial time for the car manufacturer amid changing consumer preferences. Electric cars are quite popular among younger consumers concerned about their impact on the environment.
The popularity of electric vehicles among consumers has led to companies such as Tesla being valued at over $881 billion despite delivering lesser cars. Conversely, Ford's market capitalisation languishes at just over $71 billion despite delivering more cars.
For comparison purposes, Ford delivered over 1.9 million cars in 2022, while Tesla delivered over 936,000 vehicles in the same year, yet Tesla's valuation is over ten times Ford's valuation.
Legacy automakers such as Ford and General Motors strive to catch up with EV manufacturers, many of which are richly valued despite being unprofitable, simply because they produce EVs.
Hopefully, Ford's decision to split the company into two will provide the necessary impetus to its EV division to start competing fairly with other EV companies and be potentially spun out in the future as a separate company.
The company seems to have figured out that no matter how many billions it commits to developing EVs, investors are not rewarding it with the proportional share price increase like its EV competitors, hence, today's decision.
Today, Ford reported that it delivered 129,273 in February 2022, representing a 20.9% decline compared to last year due to the shortage of microchips.
Ford CEO Jim Farley has said for a long time that developing, manufacturing and selling EVs requires a different strategy from the traditional ICE cars, which is one of the reasons behind today's announcement.
Farley said: "We are going all in, creating separate but complementary businesses that give us start-up speed and unbridled innovation in Ford Model e together with Ford Blue's industrial know-how, volume and iconic brands like Bronco, that start-ups can only dream about,"
The EV division will be known as Ford Model e, while the internal combustion engine (ICE) division will be known as Ford Blue. Farley will be heading Ford Model e and will retain disposition as CEO of the entire company.
Ford Blue will be headed by Kumar Galhotra, the company's current head of the Americas & International Markets Group. In addition, the automaker's commercial arm will be renamed Ford Pro. It will be responsible for distributing and selling Ford cars while offering other hardware and software services that could generate additional revenues for the company.
Ford also announced the appointment of a new non-executive chairman
Today's announcement marks a significant turning point as it doubles down on its EV ambitions. Only time will tell if the move shall be reflected in better results across its three operating divisions that will now have individual financial statements.
*This is not investment advice. Always do your due diligence before making investment decisions.
Ford share price.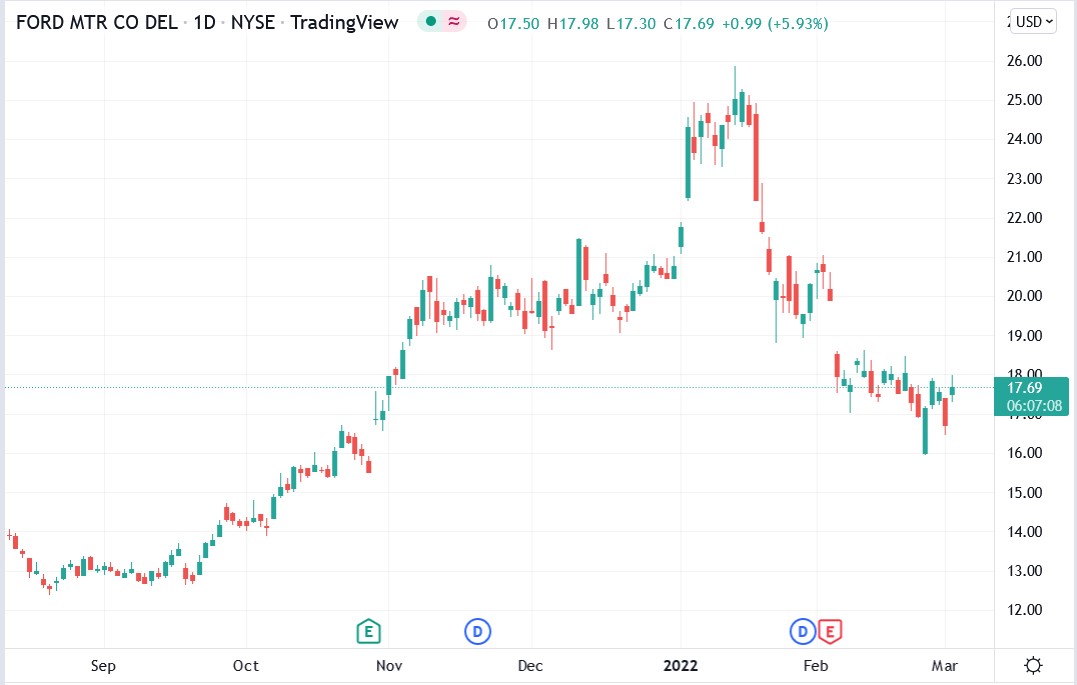 Ford's share price rallied 7.53% to trade at $17.98, rising from Tuesday's closing price of $16.72.