Key points:
Exela stock rallied 35.3% after announcing a $100 share buyback plan.
The plan will be executed by issuing new senior notes maturing in 2029.
Shareholders can exchange 25 shares for a senior note worth $25.
The Exela Technologies Inc (NASDAQ: XELA) stock price rallied 35.3% premarket after unveiling a $100 million share buyback program to unlock shareholder value.

The company's board unveiled a buyback program that will reward shareholders with a senior unsecured note worth $25 for every 25 shares tendered for the buyback program.
The senior notes issued will have an annual interest rate of 6% and will mature in March 2029. The move is part of a plan to reward shareholders while buying back 100 million outstanding shares to boost shareholder value.
Each of the shares tendered as part of the program will be worth $1.00, representing an 81.8% premium to the stock's closing price of $0.55 yesterday.
Par Chadha, Exela's Executive Chairman, noted: "After deploying more than $400 million of capital in 2021 to substantially reduce debt and extend maturities, we are now deploying capital to unlock shareholder value for our large and growing shareholder base."
Investors cheered the move, but today's rally did not reflect the entire premium baked into the buyback offer, which could easily exceed the 81.8% premium. In addition, the notes shall bear an annual interest payment of 6%.
Exela's shares are rising for the second day in a row, with yesterday's 32% increase attributed to the renewal of a contract with a leading consulting firm. While the company did not provide many details about the client, it mentioned that the contract was worth $35 million.
Given that Exela's valuation currently hovers around $102 million, the company's above contract means a great deal.
The company's shareholders have been urged to contact their brokers well in advance of the 11:59 PM New York Time, February 24, 2022 expiry time to give them adequate time to process the instructions and tender the required shares.
Today's announcement is likely to boost Exela's valuation over the long term after the new notes start trading freely on the NASDAQ exchange, just like the common stock offered used to trade before this announcement.
*This is not investment advice. Always do your due diligence before making investment decisions.
Exela stock price.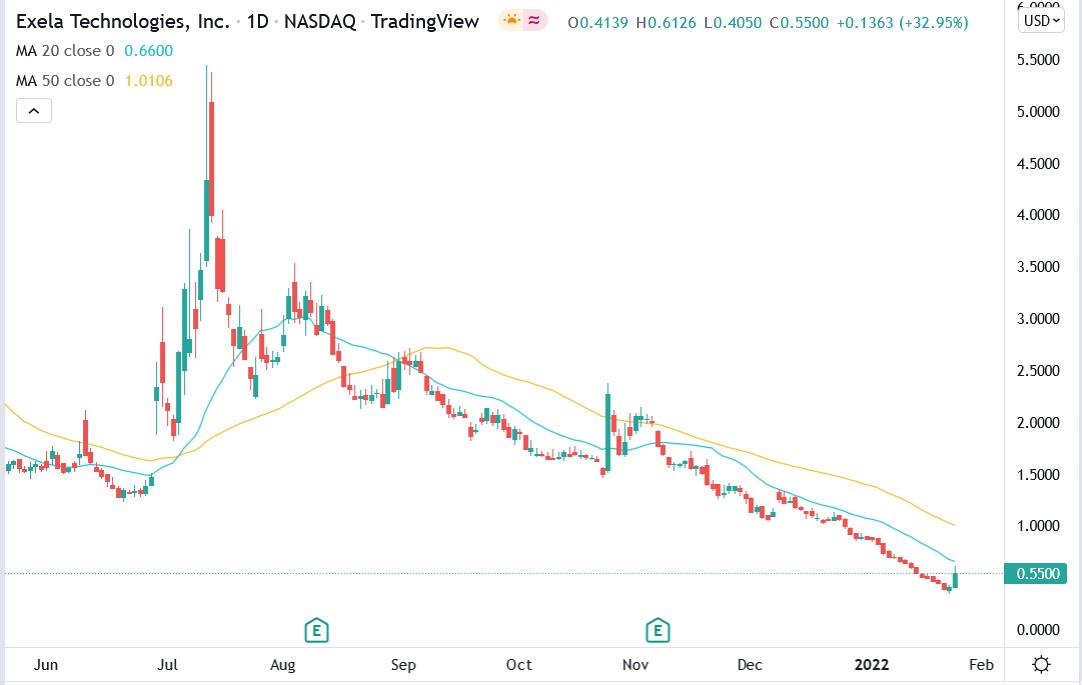 Exela stock price surged 35.32% premarket to trade at 40.74, rising from Tuesday's closing price of $0.55.