The GBP/USD currency pair has launched a bold move higher against the US dollar, rising 4.2% in the past two weeks, starting from its July 14, 2022, low of 1.1767 to its current price of 1.2262. But, can the pair keep rising to break above the crucial 1.2400 level?

The macro picture
Currently, the UK is in a period of uncertainty after Boris Johnson's resignation. In addition, the Conservative Party is currently electing a new Prime Minister, which creates uncertainty. Two people are running for the position, Liz Truss and Rishi Sunak.
The party will unveil the UK's new Prime Minister on September 5, 2022. Until then, the pound's gains may be limited, but investors should watch out for a relief rally, which is likely to happen, regardless of who becomes the new British Premier.
The technical picture
From a technical analysis perspective, we can see that the recent rally in the GBPUSD currency pair occurred at a long-term support zone, forming a V-shaped recovery as buyers flooded in, driving the pound higher.
The recovery is holding up well as the GBPUSD pair (also known as the cable) has broked above one resistance level and is approaching another resistance level at 1.2353. A break of this level would open the door for a test a break above 1.2400, which should be easy if the pair breaks above1.2353.
Another crucial point is that the GBPUSD pair is trading above the 20-day moving average (MA) line and has just broken above the 50-day MA line. Therefore, it seems like there is decent bullish momentum behind the pair.
A bullish moving average crossover
However, a bullish moving average (MA) crossover where the 20-day MA crosses above the 50-day MA could unleash a massive rally in the pair. However, this is yet to happen, but it must happen if the current rally in the GBPUSD pair is to last.
The last MA crossover happened on March 1, 2022, leading to a massive (4.5 month) downtrend that ended on July 14, 2022. Therefore, trend traders may be waiting for such a setup. However, day traders tend to focus on setups that play out intra-day.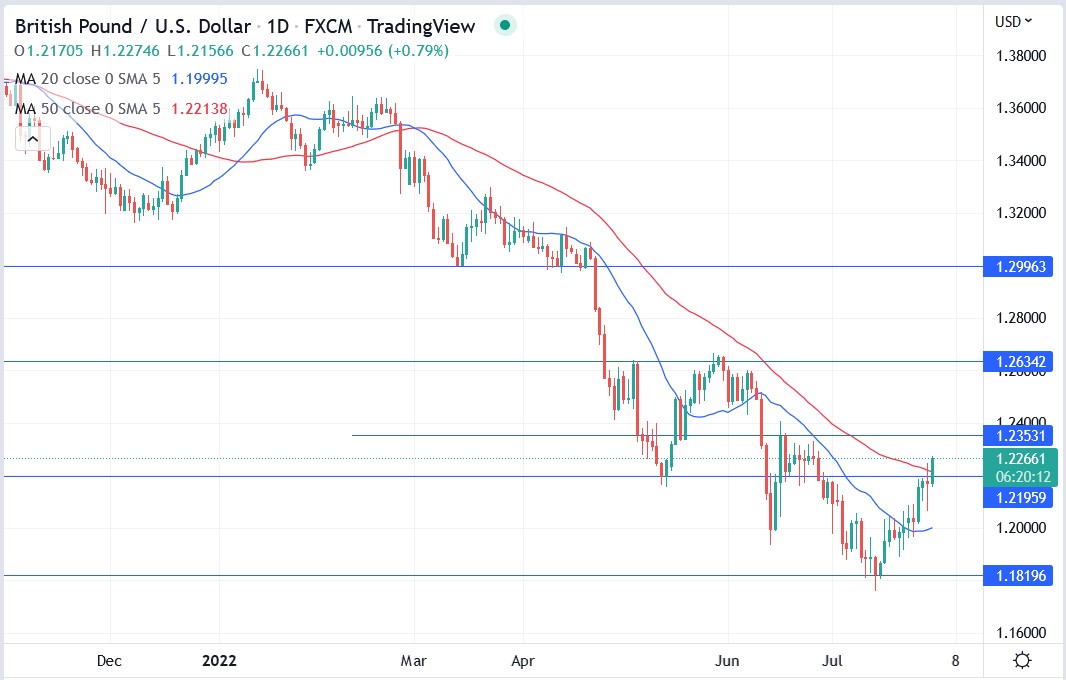 The GBP/USD currency pair has risen 4.2% from a low of 1.1767 on July 14, 2022, to its current price of 1.2262.