Key points:
The Geovax Labs (GOVX) stock price soared 63.4% premarket.
The biotech company released positive clinical study results.
So, should you buy GOVX stock? Read on to find out.
The Geovax Labs Inc (NASDAQ: GOVX) stock price soared 63.4% premarket extending Friday's 37% rally as investors bought its shares after the company released positive efficacy study results of its modified vaccine Ankara, MVA, against the Sudan ebolavirus (SUDV).

Also read: The Best Biotech Stocks under $5 To Buy Right Now.
The company announced the publication of the peer-reviewed animal study in the Nature Partner Journals, NPJ, Vaccines. The vaccine known as MVA-VLP-SUDV protected the animals infected with a challenge dose of SUDV from death and disease symptoms after receiving one dose.
The last time we covered Goevax Labs, it had spiked over 92% without any fundamental driver, and we attributed the move to positive retain investor interest. However, the move happened at a crucial support zone, which was a positive sign.
In most cases, technical chart patterns tend to occur before the fundamental drivers primarily because of the "smart money." These institutional investors always know more about various companies than retail investors.
In Geovax Labs' case, we saw the massive move on Mondy last week as its stock price soared higher from a long-term support level. At the time, we didn't know that the company was about to release the positive results, which happened on Thursday of the same week.
The clinical-stage biotech company announced the positive trial results on Thursday, pushing its share price higher. Investors cheered the clinical data,w which showed that MVA-VLP-SUDV, a live attenuated vaccine vector, could provide single-dose protection and potency in treating disease outbreaks such as the Sudan ebolavirus.
David Dodd, GeoVax's Chairman and CEO, commented: "This publication further validates the broad utility and benefit of the GeoVax MVA-VLP approach towards providing single-dose, highly efficacious vaccines against major infectious health challenges worldwide. Previously, our vaccine against the Zaire ebolavirus demonstrated 100% protection, single-dose protection in a non-human primate model. Adding the Sudan ebolavirus to our vaccine portfolio against hemorrhagic fever virus threats well positions GeoVax for achieving a leadership position in this critical area of healthcare prevention. We look forward to providing further updates on our progress in this area."
So, should you buy Geovax shares? I would say no. It is never a good idea to chase a stock higher, even if you missed out on the rally that started last week. Pullbacks always follow massive rallies.
*This is not investment advice. Always do your due diligence before making investment decisions.
Geovax Labs (GOVX) stock price.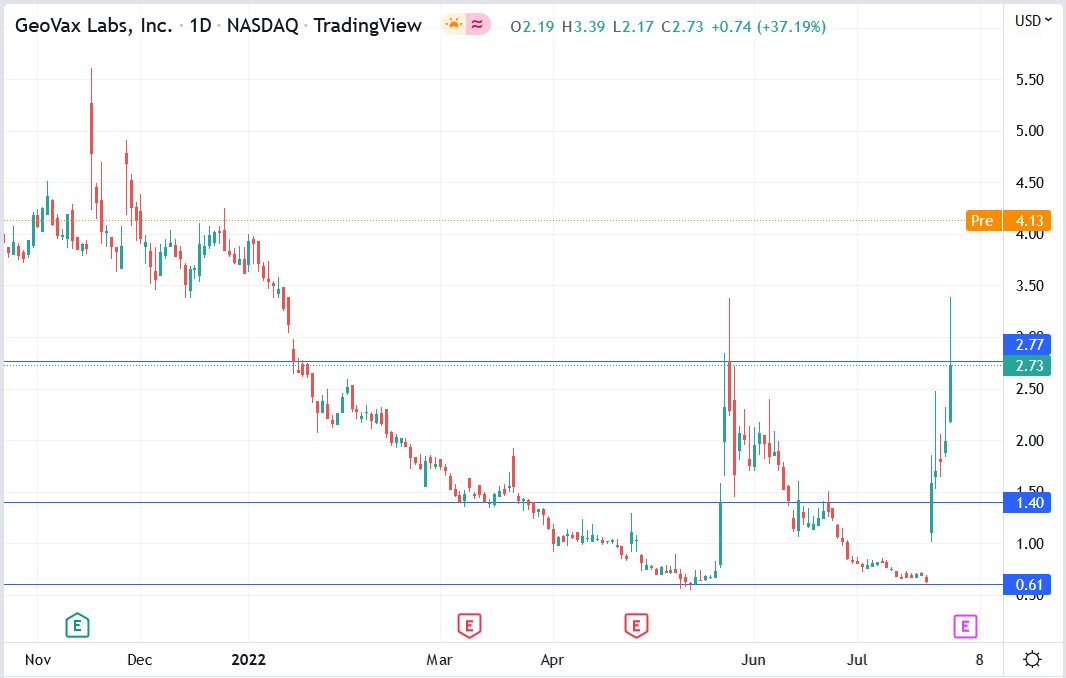 Goevax Labs (GOVX) stock price soared 63.37% premarket to trade at $4.46, rising from Friday's closing price of $2.73.