Key points:
Genedrive shares have risen 171.9% in one month. So, what's next?
The company's hearing loss test targeted at babies is behind the rally.
In addition, the firm's management has excelled at pivoting strategically.
The Genedrive PLC (LON: GDR) share price has risen by 171.9% in one month, fueled by the multiple installations of its gene tests to detect potential deafness in children treated with a specific antibiotic.

The genetic swab test is the first of its kind globally. It allows physicians to identify if a baby has a genetic mutation that can lead to permanent hearing loss if the child is treated with Gentamicin, a common antibiotic used in emergencies.
Investors have rallied behind Genedrive pushing its shares higher given the massive potential that the MT-RNR1 test if it is adopted as the first point of care test for screening babies who need emergency medical care.
Genedrive's test can help physicians identify children with the specific genetic mutation that leads to permanent hearing loss if treated by Gentamin within 60 minutes instead of the current standard of care tests that take several days to confirm the mutation.
Investors who have been following the performance of Genedrive shares know that GDR shares fell drastically from multi-month highs in December 2021 amid concerns that its COVID-19 test was too late for the market.
The company reported that it had failed to achieve commercial traction for its high throughput Covid-19 test. As a result, the company had failed to make the massive sales it had expected in India after its COVID-19 test was approved and was awarded an import license.
Genedrive's contract with the US Department of Defense had stalled, denying the company a much-needed revenue stream. However, the firm would not quit as it explored different revenue opportunities.
The recent rally triggered by the success of Genedrive's MT-RNR1 genetic test is proof that the path to success is to go from failure to failure without losing momentum. Although I am not saying that the company's previous failures are its fault, sometimes, things don't work, and there is nothing we can do about it.
But our reaction to unexpected events is our true strength. Genedrive has shown an unwavering determination to find a product that will address a significant unmet need in the health sector.
While there are no guarantees that the current rally will continue, Genedrive is a company that I can bet on for the long term, given its past and current activities. In addition, the company's management has done an excellent job of pivoting and reacting positively to unexpected market conditions, which is how one achieves long term success.
*This is not investment advice. Always do your due diligence before making investment decisions.
Genedrive share price.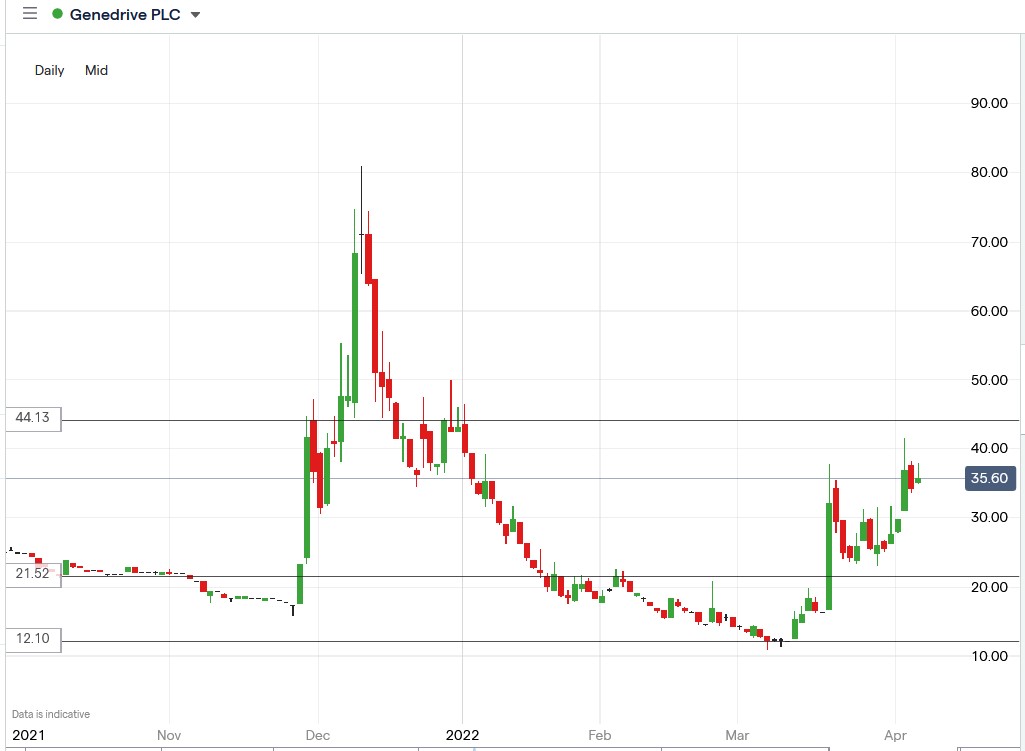 Genedrive shares have risen 171.92% in one month, but the rally seems to be fading. So what's next for the firm?