Shares of Helium One Global Ltd (LON: HE1) surged 5% higher after announcing Canaccord Genuity's hiring as the Company's joint broker with immediate effect. The shares later fell into negative territory, erasing all prior gains.
The primary helium exploration company clarified that the new broker would help it access more institutional investors from its global roster of clients, which could significantly boost its future fundraising efforts.
The company's shares had fallen since the last time we covered it in mid-February when it started the infill seismic campaign at its Rukwa project in Tanzania.

It appears that investor interest in the company has waned since then, which explains the latest decline, but this could change if the company makes a positive announcement.
Helium still owns one of the premier primary helium mines globally. It boasts of some of the lowest operations costs, making it an attractive business over the long-term.
The company is likely to be very profitable once the helium mining and selling from its Rukwa project begin, but investors have to be patient as the firm still has a long way to go.
Technically, Helium One's shares are trading within a wide range, but since the company IPO'd in October 2020, we do not have much price data to analyse. Regardless, it is always prudent to buy near the bottom of a range and sell at the top.
David Minchin, Helium One's CEO, said: "Although Helium One is financed for its current exploration programme, Canaccord is well placed to assist the Company in securing future institutional investment as the project matures into development.  Canaccord's global reach will enable the Company to access institutional investors from UK, European, North American and Australian markets as we continue to develop the globally strategic Rukwa helium project."
Helium One share price.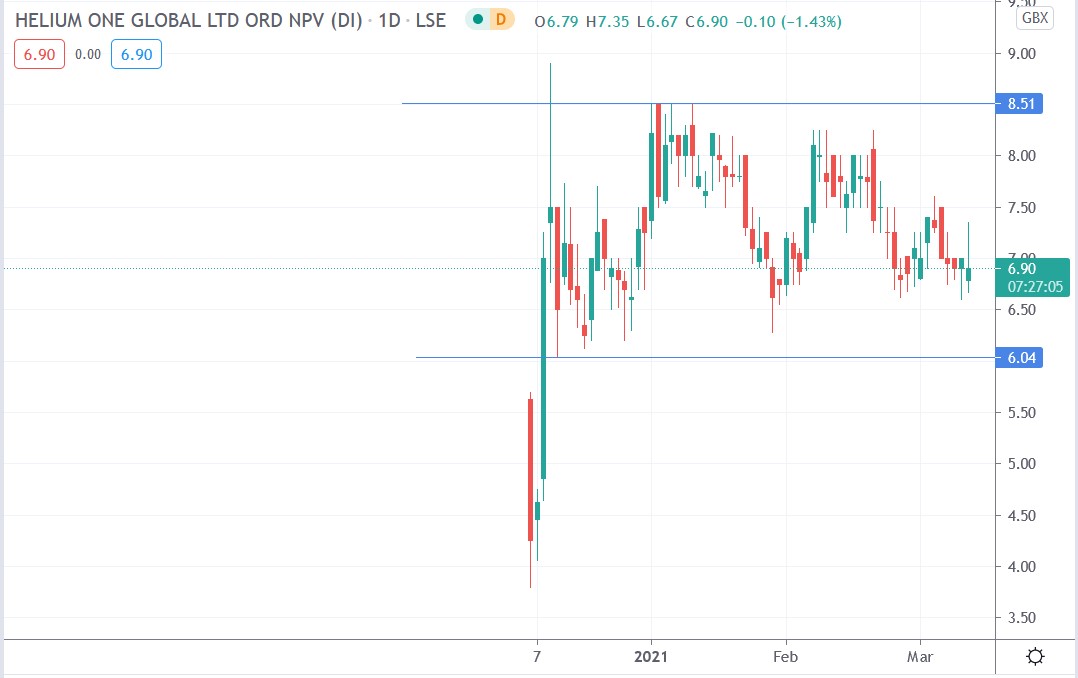 Helium One shares spiked 5% higher to trade at 7.35p after rallying from Tuesday's closing price of 7.0p.