Key points:
The Akerna Corp (KERN) stock rallied 40.5% despite a lack of news.
The rally higher was driven by significant interest from momentum traders.
Can today's rally translate into a sustained uptrend? Read on to find out.
The Akerna Corp (NASDAQ: KERN) stock price rallied 40.5% despite the cannabis industry software provider not making any significant announcements in the recent past. The move can be attributed to renewed investor interest in the company, given that over 7.63 million shares had changed hands at writing.

However, those unfamiliar with the company may be surprised to hear that it specialises in developing and selling enterprise software for cannabis companies looking to grow their operations from the startup phase to prominent regional, national or international players.
Also read: The Best Undervalued Stocks To Watch In 2022.
As a company focused on the cannabis industry, any growth witnessed will likely trickle down to the company, providing critical infrastructure to cannabis companies. However, to generate sales, Akerna must market itself to its target clients as the solution to all their tech problems.
Akerna's software can help cannabis firms streamline their operations by integrating all the critical business operations under one software product. The latest rally in Akerna stock seems driven by momentum traders looking to buy a cheap stock that could rise quickly as more buyers are attracted to the stock.
The last significant announcement from Akern was the release of its 2022 Cannabis industry mid-year review about the state of the US cannabis market. The company noted that about 77% of US residents now live in a state that has legal cannabis options.
Akerna also raised $10 million via a public offering of 29.38 million shares of common stock priced at $0.23 each on June 30, 2022.
However, given that there is no fundamental driver behind the latest rally, I do not expect the rally to last. Furthermore, investors should remember that significant pullbacks usually follow parabolic price rallies. Therefore, those interested in acquiring KERN shares should wait for the inevitable pullback before buying.
*This is not investment advice.
The Akerna (KERN) stock price.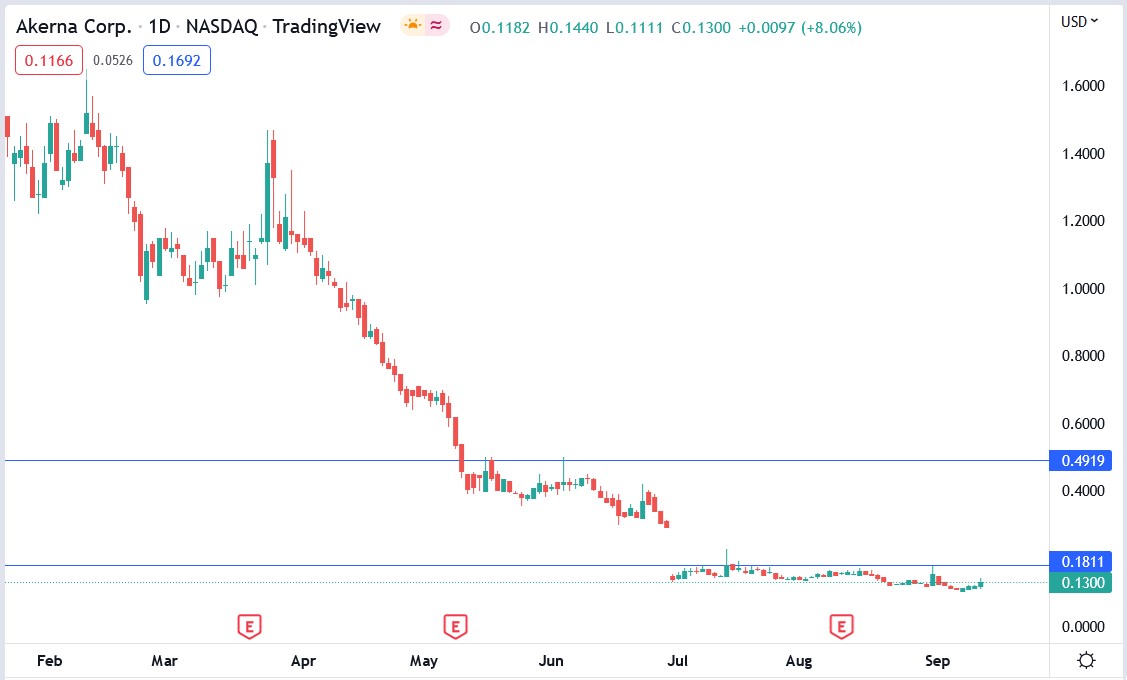 The Akerna stock price was up 40.46% premarket to trade at $0.18, rising from Tuesday's closing price of $0.13.