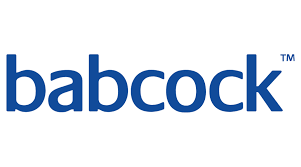 Shares of Babcock International Group PLC (LON: BAB) have soared 46.8% this month as investors shrugged off the negative earnings report that saw the firm book a whopping £1.7 billion loss for the past year.

The defence contractor's shares plunged 16% following the earnings report, with many expecting the downtrend to keep going in future. However, Babcock shares quickly reversed course and headed higher to post an impressive 46.8% gain this month.
After the initial reaction, investors started buying the company's shares after digesting the earnings report. A significant chunk of Babcock's losses were driven by asset write-offs, with its operating loss being £363 million.
Investors also paid attention to the fact that Babcock's efforts to restructure its business operations and eliminate divisions that are not part of its reimagined core services is likely to pay off in future, hence, the recent rally.
Babcock also secured a £300 million revolving credit facility from its financiers, which should help the company meet its short-term liquidity needs. In addition, it is currently working to dispose of other business units that are not aligned with its new strategy.
Investors were pleased to learn that the defence contractor is planning to sell some business divisions worth up to £400 million, which should provide the firm with adequate funds for its operations.
Rumours also fueled Babcock's share price rally that the company could be an acquisition target for a consortium of private equity funds, which have recently been targeting UK-listed companies, which are relatively cheap compared to their peers.
Finally, traders who missed the recent rally may be best served to wait for a significant pullback before opening new positions. Babcock's shares have formed a parabolic shape, which is usually followed by a pullback.
*This is not investment advice.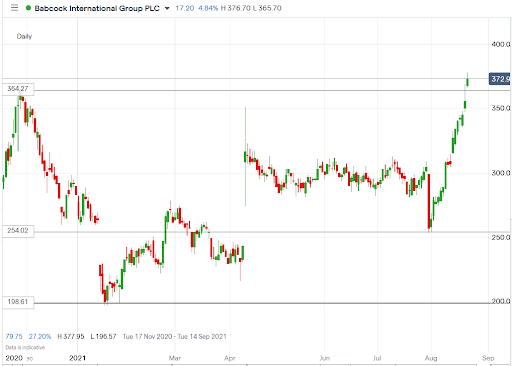 Babcock shares are up 46.8% in August after rallying from an opening low of 254p to their current price of 372.9p.
Should You Invest in Babock Shares?
One of the most frequently asked questions we receive is, "what stocks are best to buy right now?" It's a wide-ranging question, but one that we have answered… Our AskTraders stock analysts regularly review the market and compile a list of which companies you should be adding to your portfolio, including short and longer-term positions. Here are the best stocks to buy right now