Key points:
The CBAK Energy stock rallied 20% after Q1 revenues surged almost 8X.
Unfortunately, the firm's profitability did not improve due to high costs.
Investors should consider this before deciding to buy CBAT stock.
The CBAK Energy Technology Inc (NASDAQ: CBAT) stock rallied 20% after the Chinese company reported a 752% surge in its Q1 2022 revenues to $80.2 million versus last year's $9.4 million.

The lithium-ion batteries manufacturer revealed that it earned a gross profit of $5.3 million, improving the $1.8 million profit generated in a similar period last year. However, the net income attributable to shareholders shrunk to $0.4 million compared to $29.6 million in Q1 2021.
CBAK Energy noted that the higher revenues were driven by its merger with Hitrans, which brought a sizeable materials business, which led to impressive sales combined with the significant demand for its lithium batteries.
Investors were pleased to hear that CBAK had secured an order worth €28.2 million ($29.3 million) in May with a leading European company that supplies cooling, heating and renewable energy systems. CBAK will supply the customer with lithium-ion batteries worth the stated amount.
For those wondering why CBAK Energy returned a loss and had minimal gross profits, the answer lies in the company's cost of revenues, which soared to $74.9 million as a result of the firm's meagre margins.
The company's total operating costs were $6.7 million, with its operating loss at $1.3 million. Therefore, investors looking for the high revenues to translate into high profits may find that CBAK Energy does not meet these criteria, given its high sales costs.
However, according to its CEO, the company is keen to increase the effectiveness of its materials business, which could translate into higher margins.
Yunfei Li, CBAK energy's Chairman and CEO, commented: "We are very excited to kick off 2022 with our net revenues surging more than an eight-fold year over year to reach $80.2 million in the first quarter, primarily driven by the material business brought by the Hitrans merger and robust demand for our high power lithium batteries."
Investors looking to buy CBAT shares might find its current prices quite attractive since it has been trading sideways at a support zone. The stock is attempting to rally higher, but I would wait for a break above $1.45 before jumping in.
*This is not investment advice. Always do your due diligence before making investment decisions.
CBAT stock price.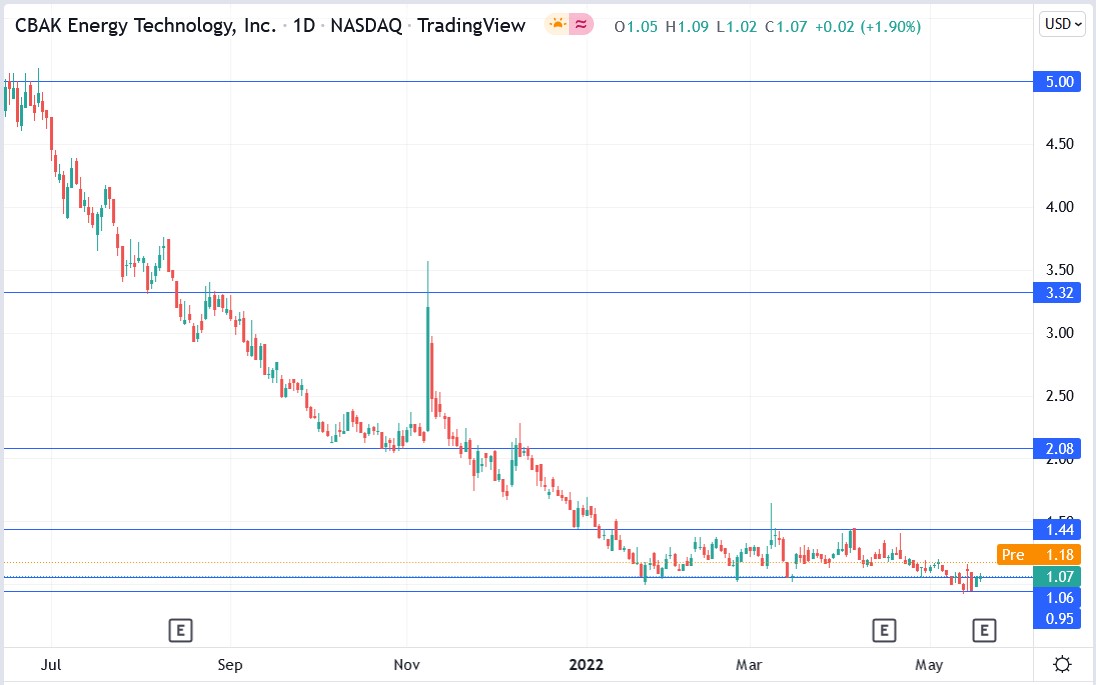 CBAK Energy stock was trading up 10.28% at publishing but rallied almost 20% higher earlier.