Key points:
Echo Energy shares surged 9.76% on an upbeat Argentina operations update.
The energy company increased its overall gas production at Oceano by 53%.
Investors cheered the news triggering the rally. Is the stock a buy? Read on.
The Echo Energy PLC (LON: ECHO) share price surged 9.76% after an update about its Argentina operations. The upstream energy company focused on Latin America revealed that daily gas production at its Oceano field had increased materially after successfully upgrading and maintaining its production facilities.

The energy company revealed that it had improved the gas infrastructure's reliability, efficiency, and load capacity at its Oceano facility. The company had temporarily shut down operations at its Oceano field to upgrade and maintain the compressor facility, which was now paying off significantly.
The Oceano field had a net production capacity of 1.72 MMscf/d of gas (net to Echo) in Q1 2022. It is now producing an average of 2.63 MMscf/d of gas (net to Echo) in the 12 days since the maintenance and upgrading processes were completed. The new figures represent a 53% increase in the field's production capacity.
Martin Hull, Echo Energy's CEO, commented: "The increase in production from the Oceano field is clearly encouraging and is a further demonstration of the significant potential that we believe exists within the Company's Santa Cruz Sur assets. We continue our focus, as cash flow allows, on making targeted and cost-effective investments to drive production performance and improve revenues in an environment of sustained elevated commodity prices. We remain committed to building value for our shareholders and look forward to reporting further progress."
Investors cheered the announcement, as evidenced by the rally in Echo Energy shares, given that the higher production output will lead to higher revenues and profits for the company.
The Echo Energy share price chart below shows that ECHO shares bounced off the 0.41p support level and are now trading below the 0.45p – 0.46p support zone. A break above this zone would lead to further gains for investors. Conversely, a drop back to the 0.41p support level would provide another buying opportunity.
*This is not investment advice. Always do your due diligence before making investment decisions.
Echo Energy share price.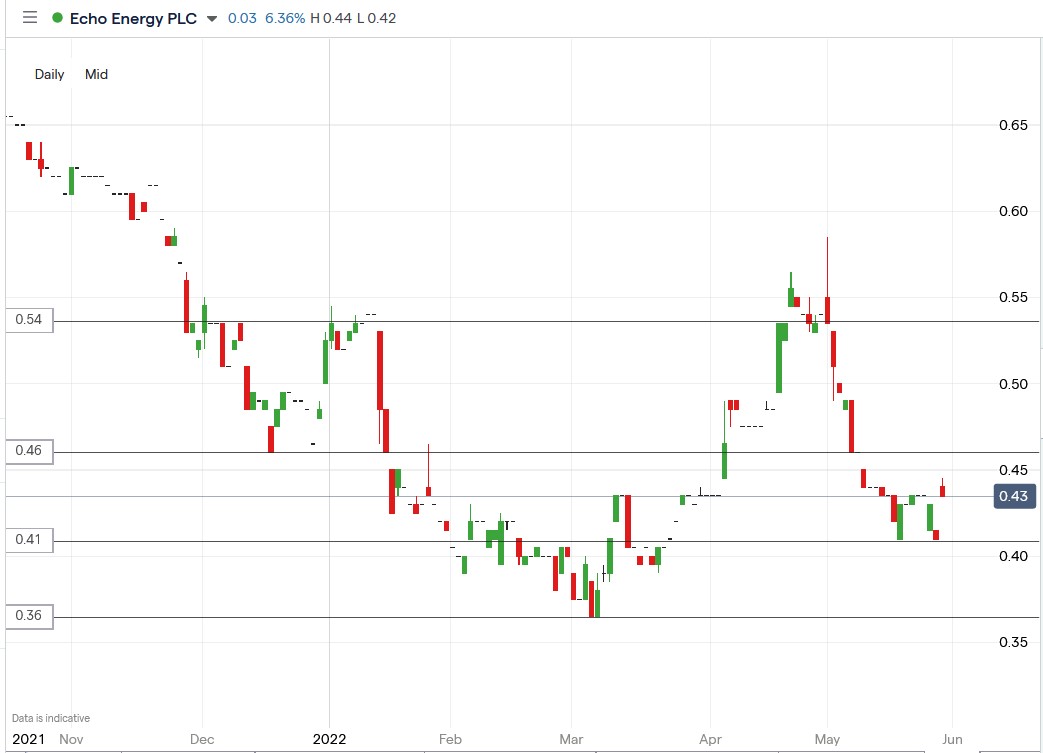 Echo Energy's share price surged 9.76% to trade at 0.45p, rising from Friday's closing price of 0.41p.