Shares of IQ-AI Ltd (LON: IQAI) plunged 10.5% today despite the lack of major releases from the image quantification company whose last announcement was a partnership with the Mayo Clinic to develop a brain lesion tracking platform to be called IB Trax.

The company's shares price has fallen almost 50% from a high of 22.80p on November 5th following the FDA's approval of its liver biopsy technology known as the Liver Surface Nodularity (LSN) software, which can now be marketed in the US.
The latest downtrend provides a great opportunity for long-term investors who missed the stock's initial rally to buy in at a decent price.*
Interest in IQ-AI's imaging technology seems to be growing given the latest deal with the Mayo Clinic, but there is still a lot of ground to cover given that IQ-AI agreed to issue stock worth $50,000 to the Mayo Clinic as part of the deal.
It seems like IQ-AI is paying to access the healthcare chain's data instead of the clinic paying to have IQ-AI analyse its data and generate insights that could help improve patient outcomes.
However, it is highly likely that IQ-AI chose to pay for the data so that it can resell the results of analysing the data to its other customers, which makes the deal a very good one for IQ-AI.
Regardless, IQ-AI is still an unprofitable company and investors in the company should take this into consideration before making any investment decisions.*
*This is not investment advice
IQ-AI share price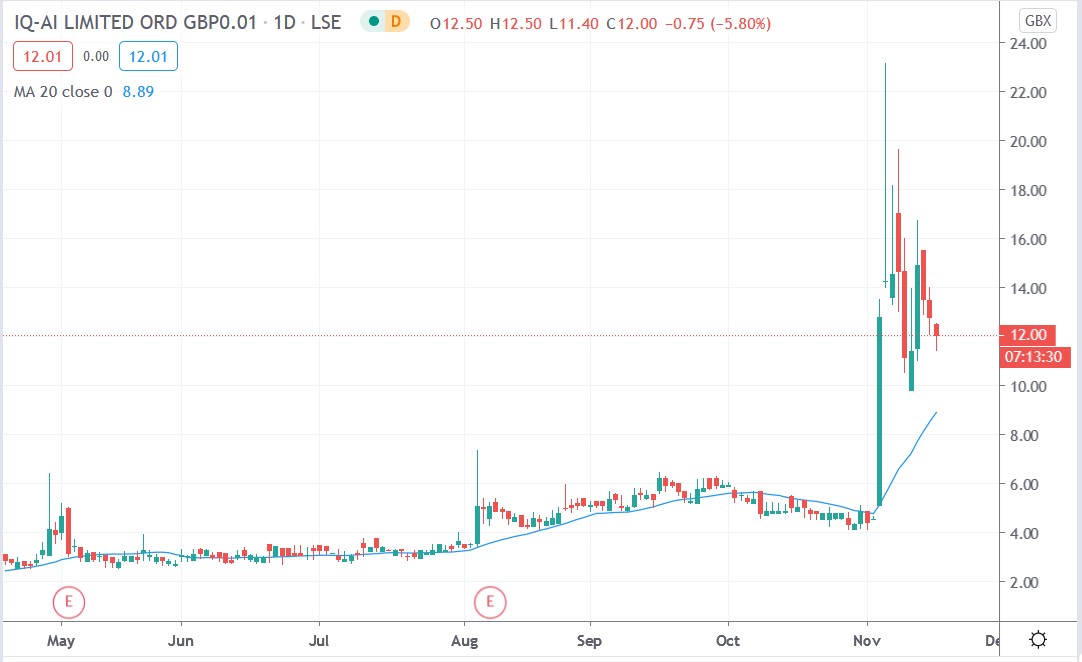 IQ-AI shares plunged 10.5% today to trade at 11.40p having fallen from yesterday's closing price of 12.75p.
People who read this also read: