Key points:
SAP shares were falling because its quarterly profits fell 45% compared to last year.
The company's operating margins also shrunk due to significant stock-based payments.
SAP's prospects are pretty promising given the potential growth in cloud services.
SAP SE (NYSE: SAP) shares had fallen 6.31% premarket after reporting its Q4 2021 financial results where its IFRS profits fell 45% to €1.47 billion.

The business services company also revealed that its operating margins had shrunk by 16.9 percentage points to 18.4%, primarily driven by the company issuing share-based compensation to Qualtrics.
SAP's full-year IFRS operating profits fell 30% on an annualised basis to €4.66 billion due to the high share-based compensation to Qualtrics following its IPO.
The company's IFRS operating margin shrunk by 7.5 percentage points to 16.7% compared to 2020. Non-IFRS operating profit fell 1% to €8.23 billion.
SAP generated an operating cash flow of €6.21 billion, beating initial estimates of €6.0 billion by a slight margin. In addition, the company generated €5.01 billion in free cash flow, handily beating the consensus estimate of €4.5 billion.
The main highlight of today's report was the significant growth generated by SAP in its various business units. The company's cloud revenues grew 17% to €9.42 billion reaching the upper end of its full-year guidance of €9.4 to 9.6 billion.
The revenues generated by SAP S/4HANA cloud was up 46% to €1.09 billion, with the service finally crossing the €1 billion revenue threshold as expected.
The sales of software licenses were down 11% annually to €3.25 billion as the products' importance to SAP diminishes over time.
The cloud and software divisions' revenues were up 4% €24.08 billion and up 5% to €24.41 billion respectively when compared to 2020 figures.
SAP also announced that it had acquired a majority stake in Taulia, a fintech company that provides working capital management solutions to businesses. As a result, the company intends to provide companies with better access to liquidity and improve their cash flows.
Luka Mucic, SAP CFO, said: "Taulia strengthens our portfolio and adds value to a point that is key to every company: financial flexibility and stability. With that, they contribute to making supply chains more resilient,"
The company did not disclose the deal's financial details, but Christian Klein, the SAP CEO, said it was under $1 billion in a media interview.
SAP's business is on a significant growth trajectory as more companies shift their crucial functions to the cloud and could even be regarded as a late-stage growth stock. The company is also interested in launching metaverse products due to significant interest from its clients.
*This is not investment advice. Always do your due diligence before making investment decisions.
SAP share price.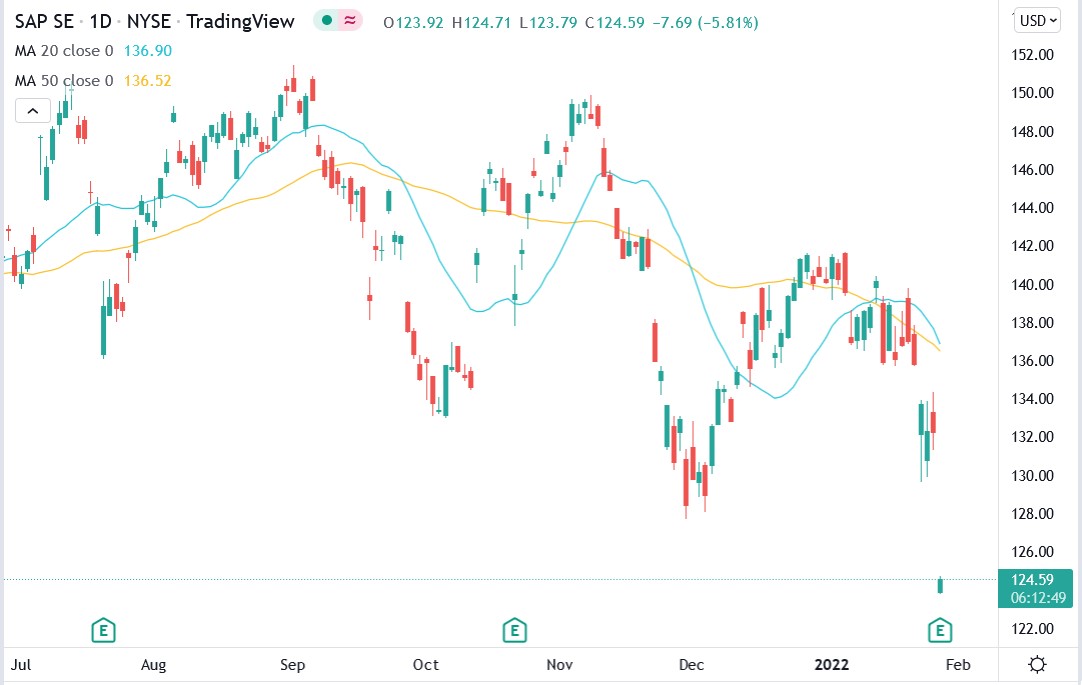 SAP shares had fallen 6.31% premarket to trade at $123.93, falling from Wednesday's closing price of $132.28.