Key points:
4d Pharma shares fell despite making progress in its cancer drugs.
The biotech firm's shares rose briefly before falling back down.
Sour investor sentiment towards biotech shares was behind the move.
The 4d Pharma PLC (LON: DDDD) share price fell today despite the company revealing that it would present a poster regarding the phase II clinical trial of its MRx0518 as a treatment against some common bladder cancers when combined with Bavencio.

As an immune checkpoint inhibitor drug, Bavencio will help 4d Pharma's MRx0518 drug candidate be more effective in patients with locally advanced or metastatic urothelial carcinoma who did not respond to first-line platinum-containing chemotherapy.
Investors initially cheered the announcement, but the rally was shortlisted as 4d Pharma shares quickly fell back and traded in negative territory at writing. Today's price action indicates that the market's generally negative sentiment toward biotech stocks remains intact.
4d Pharma is a pioneer in live biotherapeutics based on the human microbiome and has several drug candidates in various development stages. The biotech company's irritable bowel syndrome (IBS) drug has progressed well and could be commercialised soon.
The biotech sector has suffered immensely since last year amid a cyclical rotation from growth stocks to value stocks, and the recent stock market rout has just exacerbated the situation.
Interestingly, 4d Pharma shares are trading just above a support level that has been in place since March 2020, which presents an exciting opportunity to traders. If the price continues to hold above this level, we could get a rally higher soon.
Therefore, investors interested in buying 4d Pharma shares should do so at current levels. Others might wait for a touch of the 24p support level before buying, which is an aggressive move but could pay off significantly. However, there are no guarantees we will ever reach that level.
Meanwhile, investors will be looking forward to 4d Pharma's presentation on 4th June 2022.
*This is not investment advice. Always do your due diligence before making investment decisions.
4d Pharma share price.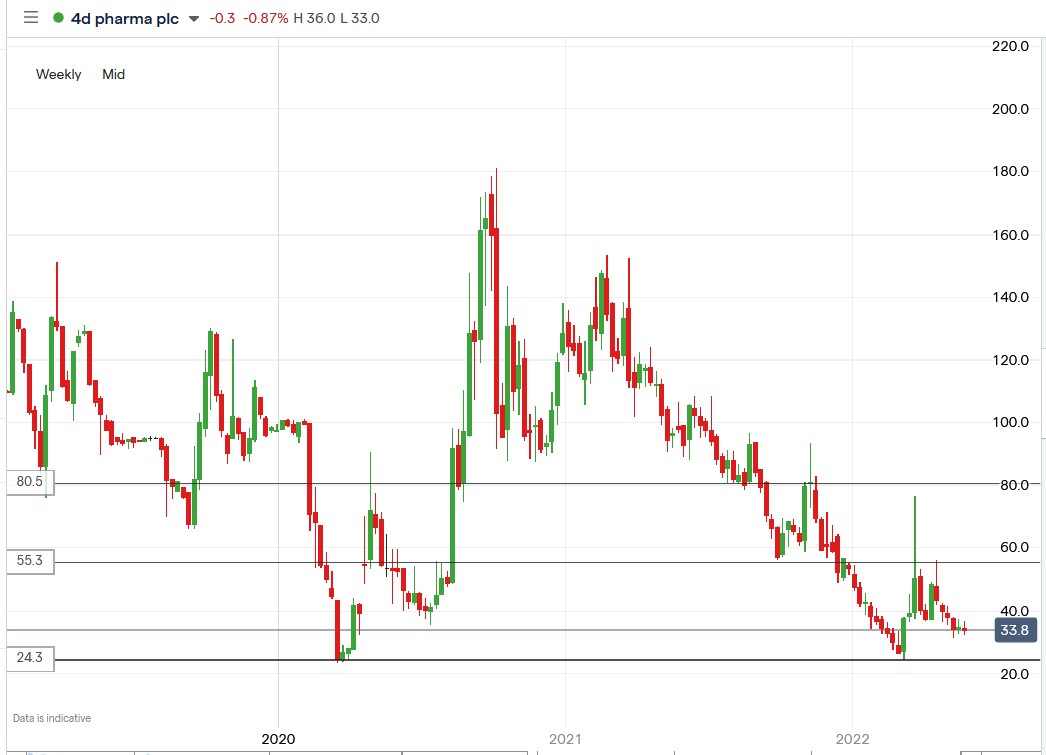 4d Pharma shares edged higher briefly before returning to their opening prices today.