Shares of Hikma Pharmaceuticals Plc (LON: HIK) fell 8.56% despite the company announcing upbeat 2020 earnings driven by its role as a supplier of emergency COVID-19 drugs at the height of the pandemic last year.
The company's revenues rose 6% to hit $2.3 billion for the year ended December 31, 2021, while its profits jumped 11% to $566 million compared to the $508 million recorded in 2019.
Hikma is a major global producer of dexamethasone, one of the drugs used to treat patients hospitalised with COVID-19. The pharma company said that it leveraged its strong foundation to supply essential medicines to treat COVID-19 while ensuring that its other drugs' supply did not suffer.

The company also launched 154 new products within the various markets it operated in and managed to get the US FDA to approve its generic drug Advair Diskus®.
However, investors were more focused on the company's revenue growth projections for 2021, which were lower than analysts estimates.
Hikma said that it expects revenues form generic drugs to range from $770 million to $810 million at a 20% margin, while analysts expect generics revenues of $851 million at a 22% margin.
Hikma's CEO, Siggi Olafsson, said: "Thanks to our strong foundation, flexible and high-quality manufacturing capabilities, robust supply chain and the unwavering dedication of our people to our purpose, Hikma was able to play a critical role in the pandemic. We responded rapidly to the changing needs of healthcare providers, supplying essential medicines used to treat COVID-19 patients while continuing to provide the critical medicines our patients need every day."
Adding:
"Our response to the pandemic demonstrates the resilience of our business, which enabled us to deliver strong financial performance and continued progress against our longer-term strategic objectives. We achieved good revenue growth in all our businesses and an improvement in core profitability."
Hikma share price.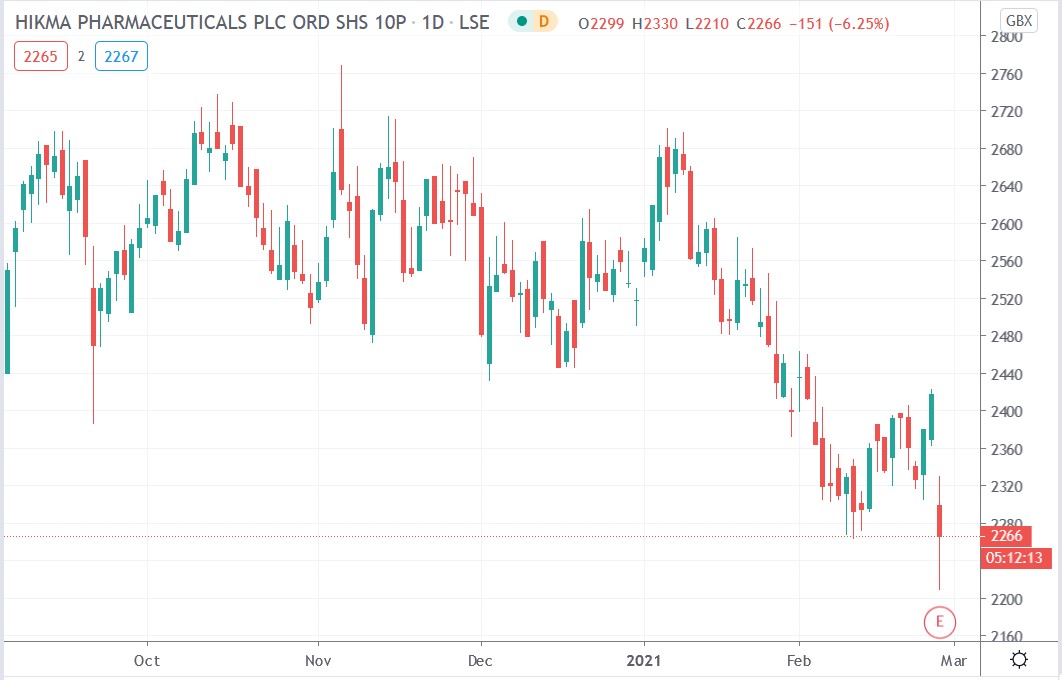 Hikma shares plunged 8.56% to trade at 2210p after falling from its closing price on Wednesday of 2417p.