Shares of Iconic Labs PLC (LON: ICON) surged 10.8% after its CEO Brad Taylor clarified its new strategic direction as it focuses on growing its three business divisions.
The company will focus on growing its current media and publishing business as an independent business unit, with its second division focusing on security, data, and information companies.
Iconic Lab's third business unit will focus on acquiring dynamic technology and artificial intelligence companies. The company will hold a general meeting of its shareholders to pass critical resolutions that will allow it to meet its financial obligations.

Iconic Labs is accelerating efforts to expand its business into other areas apart from its prior media business after the appointment of Brad Taylor as CEO in March.
The company recently appointed Marija Hrebac and Christoph Manthe as non-executive directors to rebuild its board and management team.
The European High Growth Securitization Fund (EHGOF) supports Iconic Labs' new management team and has agreed to a £50 million financing facility subject to completing due diligence and shareholder approval June 15 meeting.
Since March, the company's shares have rebounded after its previous top executives resigned after a disagreement with Ott Ventures, a significant shareholder in the company, and a row with EHGOF, which has withdrawn its backing.
Iconic Labs is currently negotiating to acquire unmanned drone company Sting Industries, owned by private equity firm Ott Ventures, after signing a letter of intent (LoI) with the firm, one of its largest shareholders.
Iconic will fund the acquisition via a combination of convertible notes, warrants and cash, and commit to providing long-term funding to Sting Industries. The deal is an excellent example of the company's new strategic direction.
Iconic Labs share price.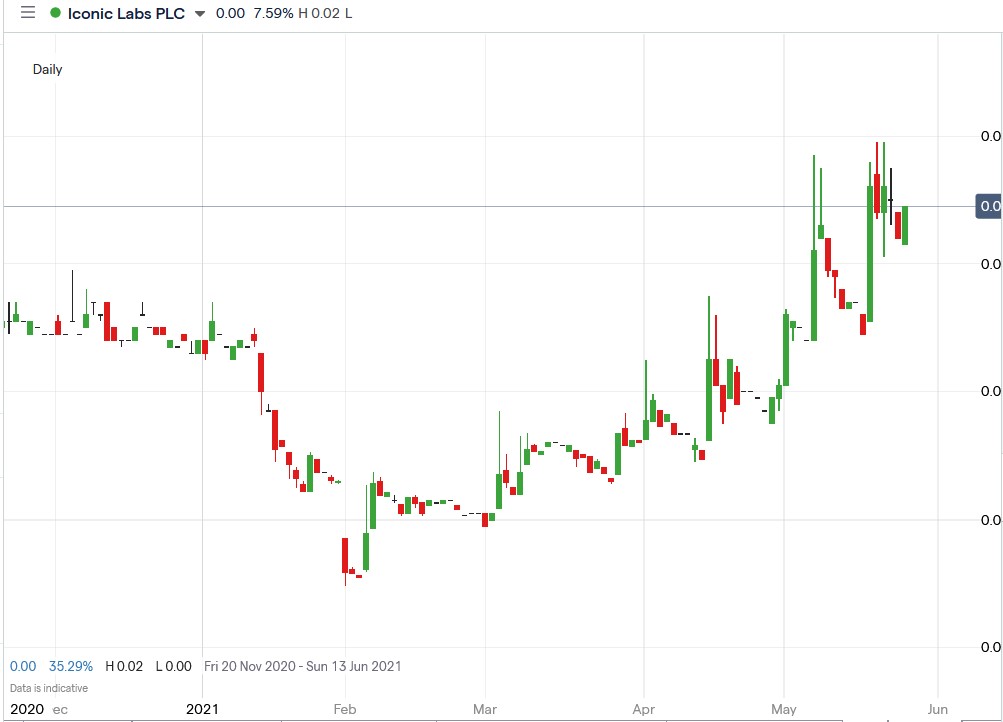 Iconic Labs shares surged 10.76% to trade at 0.0175p, rallying from Wednesday's closing price of 0.0158p.
Should You Invest in Iconic Labs Shares?
One of the most frequently asked questions we receive is, "what stocks are best to buy right now?" It's a wide-ranging question, but one that we have answered… Our AskTraders stock analysts regularly review the market and compile a list of which companies you should be adding to your portfolio, including short and longer-term positions. Here are the best stocks to buy right now