Key points:
Ideagen shares spiked 10.7% higher on takeover rumours.
Private equity firm Cinven is interested in acquiring the firm.
However, Cinven is yet to make an offer for Ideagen.
The Ideagen PLC (LON: IDEA) share price spiked 10.7% higher after news emerged that private equity firm Cinven was thinking about making an offer for the company valuing it at £1 billion.

Ideagen confirmed that it had not received an offer from Cinven and that it was waiting for such an offer to be presented so that it could officially consider it.
However, Cinven has up to 12 May 2022 to make a firm offer for Ideagen or withdraw its interest in the company so that other bidders can step up.
It is unclear how Cinven intends to fund the offer. It raised £100 million in December 2021 to fund its acquisitions. The private equity firm has already spent most of the money after buying CompliSpace for £58 million and another £26.4 million to acquire MailManager.
Private equity companies usually raise money in debt to acquire other companies, which is an option available to Cinven. However, the rising interest rates and inflation may make it hard for the firm to raise funds needed to acquire Ideagen.
Another consideration is how private equity firms load up the companies they acquire with massive debts and then offload the businesses to unsuspecting investors in the public markets by getting them relisted.
Ideagen investors may reject an offer from Cinven if the premium offered for the shares is not adequate. Today, the company's shares were trading at 255.60p, valuing the entire company at £750.8 million. Many speculate that Cinven's offer values Ideagen at £1 billion, representing a significant premium to today's trading price.
Regardless, Ideagen shares had pulled back, giving up all their gains at publishing as investor sentiment soured. The move lower may be driven by the fact that Cinven is yet to make a firm offer for Ideagen.
*This is not investment advice. Always do your due diligence before making investment decisions.
Ideagen share price.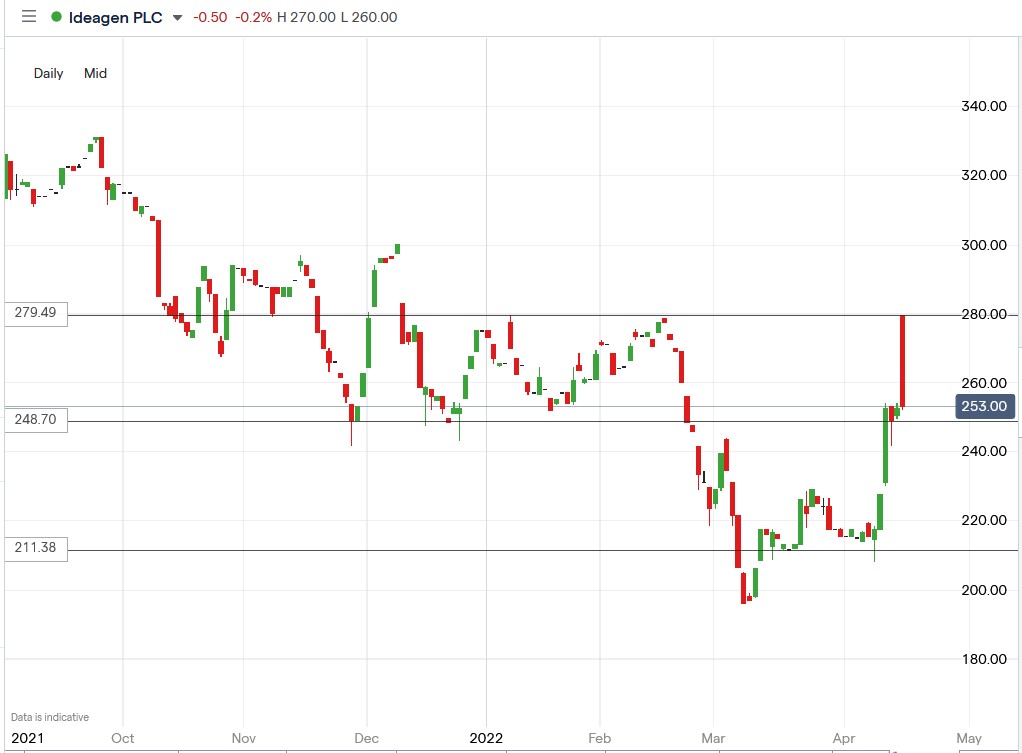 Ideagen share price spiked 10.69% higher to trade at 279.50p, rising from Thursday's closing price of 252.50p.