Key points:
Imperial Petroleum (IMPP) stock has fallen 75.8% in 2022.
Is now a good time to buy the petroleum transporter's stock?
Read on to find out.
The Imperial Petroleum Inc (NASDAQ: IMPP) stock price has fallen 75.8% in 2022, making some investors wonder whether now is the time to buy. However, despite the massive selloff in its stock price, Imperial Petroleum has achieved significant milestones, including acquiring two Suezmax tankers in May 2022.

The shipping and transportation company has been on a tear lately after raising capital that allowed it to double its fleet of ships to 8 and triple its fleet capacity to 682,000 dwt. As a result, the company generated revenues worth $5.1 million inQ1 2022 and utilised 98.9% of its fleet capacity.
Imperial Petroleum took delivery of its newly-ordered Suezmax vessels in early June, which should significantly boost its revenues in the future due to the positive impact on its fleet capacity.
IMPP generated a gross profit in Q1 2022 compared to last year, and this trend is expected to continue during the rest of the year. Investors in the petroleum sector may find IMPP stock pretty attractive, given that it is a petroleum transporter in a market where the oil demand is at record highs.
Unlike oil mining companies, IMPP, founded in Greece in 2021, is already generating revenues and profits since it does not have to prospect for oil through drilling campaigns that usually take several years before the mining company can start producing oil.
Investors looking to deploy capital in the oil sector should consider IMPP for the above reasons. However, IMPP stock is also trading near its all-time lows after falling from its March highs of over $9.60 due to the significant dilution of existing shareholders as the company raised money to fund its latest acquisitions.
For example, IMPP raised $40 million by issuing 72.7 million shares to the public via an underwritten public offer. The firm also raised a further $21 million through an exercise of warrants by investors. Hopefully, the massive dilution of shareholders is now over.
*This is not investment advice. Always do your due diligence before making investment decisions.
IMPP stock price.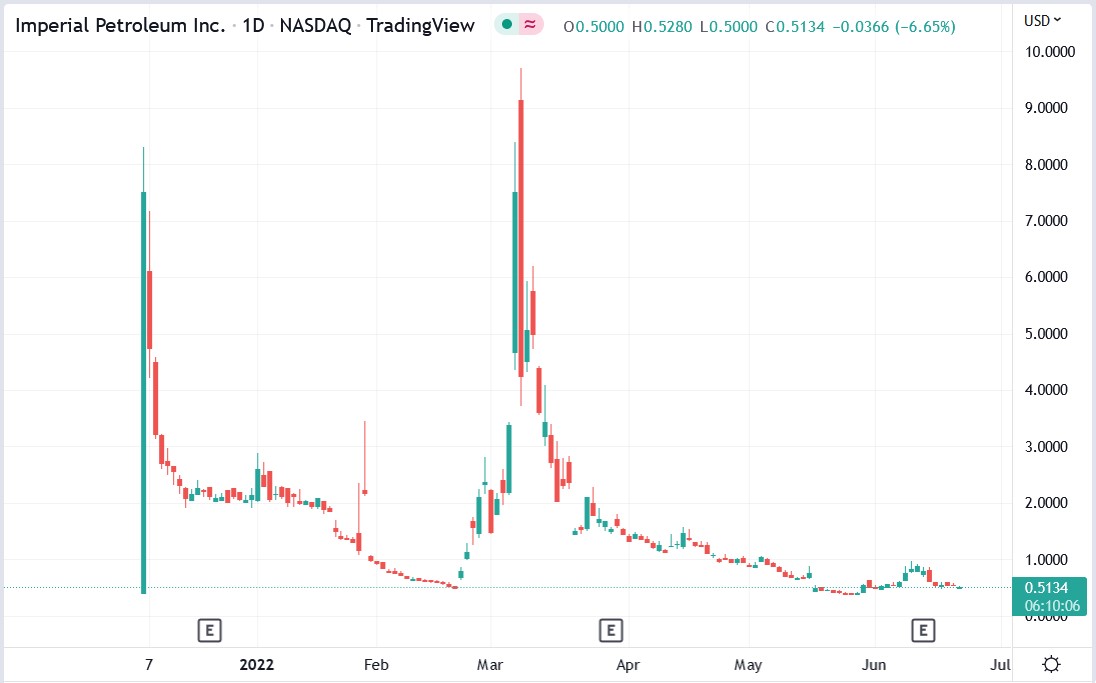 The IMPP stock price has fallen 75.79% in 2022. Is now the time to buy?