Key points:
Infobird is down 86% on the year, more since IPO
IFBD is up 585% this morning
But we must distinguish between nominal and real price changes
Infobird (NASDAQ: IFBD) stock is up 585% this morning premarket. This is, of course, welcome after the 86% fall over the past year. It's also nothing close to actually closing that value gap. Partly because that's not the way that percentages work when we're dealing with different denominators but also because some goodly part of that price change today is purely nominal. It's the part of it which is not purely nominal which is interesting, of course.

Infobird's business is in SaaS software inside China. More than that, it's offering AI enhanced customer services solutions. Or, as we can more colloquially think of it, chatbots to deal with customers. This is something that is definitely language based and so does run on national, rather than international, markets. There are advantages to the SaaS model, repeat income for example. There are also problems with being in anything quite so highly competitive and developing as AI. The technology is simply moving so fast that considerable effort must be expended just to keep up let alone beat the others.
IFBD stock arrived on NASDAQ around 18 months ago and it's been steadily downhill for the price since then. As with a number of other China based IPOs there wsa a great deal more excitement than it turned out the situation warranted. The problem has been what that declining stock price means for Infobird's NASDAQ listing itself. Be below the minimum $1 offer price for more than 30 days and there's an instruction to do something about it. More than 180 days and the listing can be lost – down to the OTC markets therefore.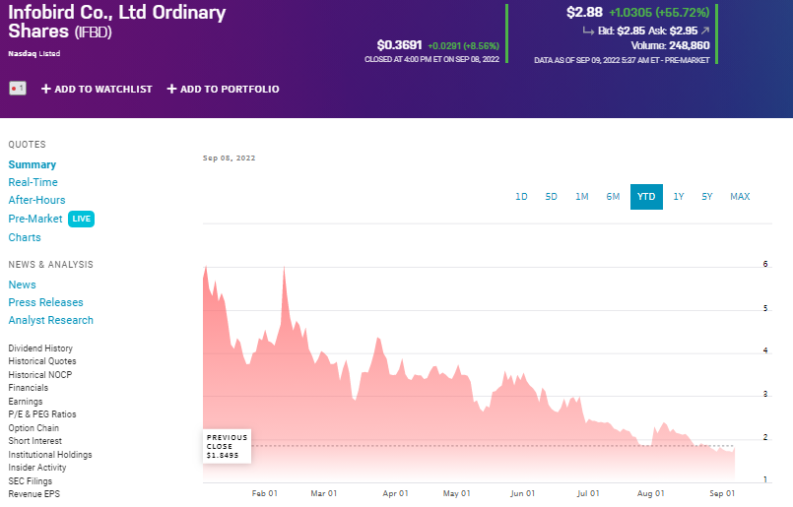 Also Read: The Best Online Trading Platforms For Beginners
As to why this happens this is fashion, purely culture. New York markets just think that the right price for a dependable stock is between $10 and $100. London thinks £1 to £10 – that why ADRs of London stocks are usually 10 pieces, to be in that range in both markets. Allied with this New York thinks that penny stocks are the preserve of charlatans and manipulation. So, you can't be on one of the major exchanges if the stock price is in pennies.
This then leads to the need for a tactic to get that stock price into the right range – a reverse stock split, a consolidation to Brits. This is a purely nominal change. Here, with Infobird, everyone who owned 5 shares yesterday now owns just the one. There should be no change in the value of Infobird as a company, nor of any individual shareholding. However, as we can see, that's not actually true.
A 5 for 1 should lead to a 500% price change. But the actual change has been 585%. So, the 500% is a purely nominal change, the 85% (which is about 17% when properly considered) is the real price change. Which is nice, obviously, but it's still different from 500% and change. That value increase, the real one, probably coming from that retention of the NASDAQ quote and the greater liquidity that goes with it.