Shares of semiconductor company IQE plc (LON: IQE) have formed a double bottom pattern on the daily chart below and are up 10.5% since bottoming. How far can they rise?
The company's shares crashed lower after the company released its 2020 results showing that its losses shrunk significantly to £2.8 million versus the £35.1 million loss recorded in 2019.
Investors appeared unimpressed with the results despite the semiconductor company's revenues growing to £170 million compared to the £140 million generated in 2019.

Regardless, IQE plc is well-positioned to benefit from the surging demand for semiconductors from smartphone manufacturers and other electronics companies driven by the 5G rollout and the resultant applications.
IQE's shares have since bottomed, as evidenced by the double bottom pattern shown below, and the question remains, how far can the shares go? The next resistance level is around the 66p level, where investors should expect a pullback, after which the bullish trend could continue.
The shares could then rally up to the 75p level and higher over time, but such a rally is likely to have several pullbacks given that stocks rarely rise in a straight line.
The semiconductor industry is currently suffering from supply chain bottlenecks, which has left companies such as IQE struggling to meet high demand from their customers given the production cuts they implemented in 2020 due to the coronavirus pandemic.
Therefore, IQE can make as much money as it wants by ramping up production to meet the excess demand affecting the entire industry, making me quite bullish on the company over the medium term.
IQE has a significant drawback in that it has lower margins than many of its competitors, such as Taiwan Semiconductors and Samsung, which means lower profits for the company.
IQE share price.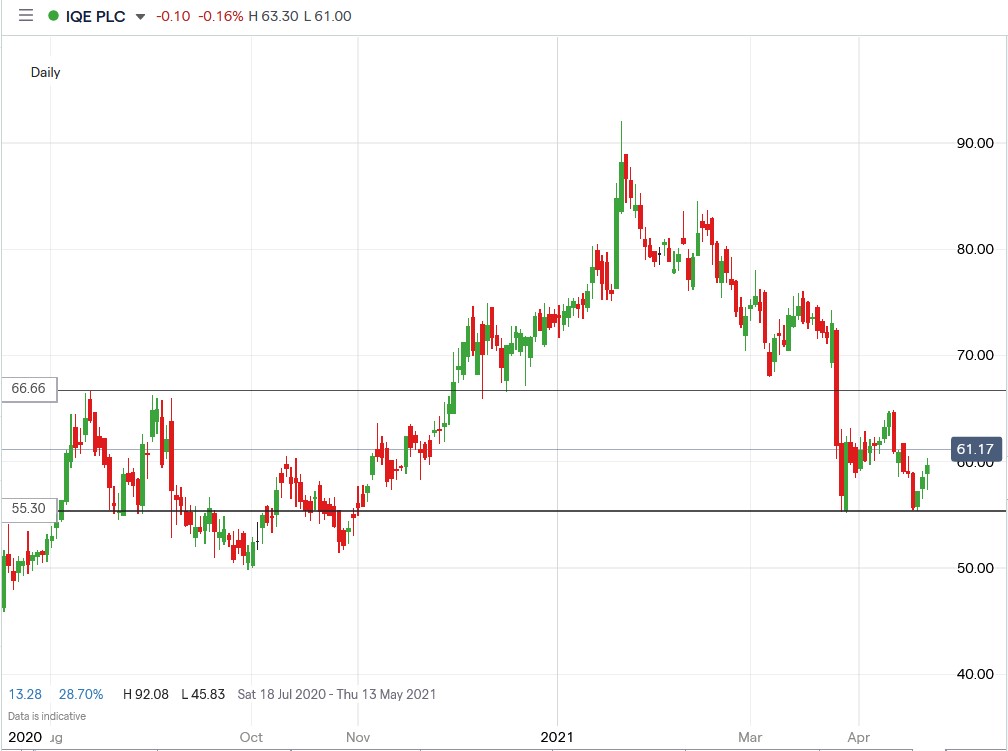 IQE shares have formed a double bottom on the daily chart and are up 10.5% from a low of 55.3p three days ago to their current price.