Key points:
Planet Fitness shares are down 21% in 2022
However, its membership numbers have continued to rise
Could it be an inflation proof stock? or is it overvalued?
The pandemic decimated gyms and health clubs, such as Planet Fitness (NYSE: PLNT), with lockdowns forcing doors to close, putting a freeze on memberships, and causing a rise in cancelations.

When the majority of Covid-related restrictions ended at the start of the year, it coincided with New Year's Resolutions, resulting in a boom in people heading back to gyms, but after a month or two, there was always going to be a drop-off.
And, with inflation hitting consumer wallets, gym and fitness club costs may be trimmed as frugal spending habits kick in. In addition, gyms may need to increase membership fees to combat rising bills, while already expensive gyms may suffer, hitting the industry with another headwind after a two-year standstill.
However, there is one stock that may be immune.
Is Plant Fitness the inflation-proof gym stock we should be watching?
Despite New Year resolutions now well and truly forgotten about, and pent-up demand fulfilled, fitness trends have continued to climb, and Planet Fitness is seemingly at the forefront.
Planet Fitness is a US-based low-cost franchisor and operator of gyms with clubs in the United States, Canada, Dominican Republic, Panama, Mexico, and Australia.
The majority of its clubs are in the US and it makes money via various revenue streams, including membership fees and franchise royalty fees, as well as selling equipment to franchises, a National Advertising Fund, assembling and placing equipment at franchise locations, and vendor commissions.
Its revenue in the first quarter came in at $187 million not far off the $192 million reported in Q4 2019, before the onset of the Covid pandemic.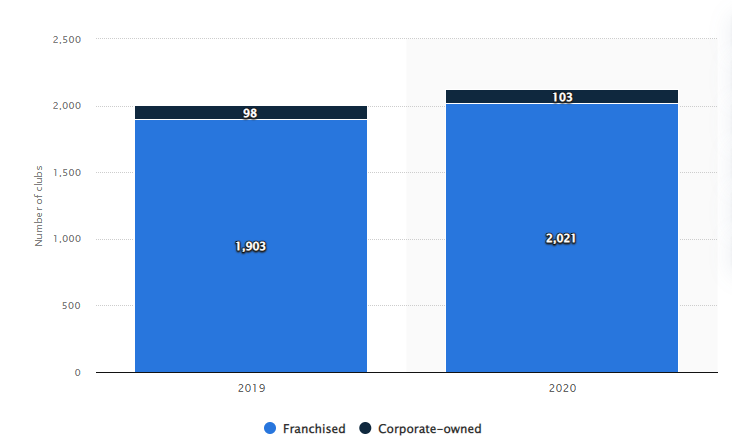 Also Read: Asset Groups To Invest In During Inflation?
In addition, despite the pandemic, the company managed to grow its total stores from 2,001 in 2019 to 2,254 by the end of 2021, with the majority franchised.
Rising Fitness Demand
Whether it is based on Covid or other wellness-related factors, consumers are becoming more health-conscious, with fitness club visits in Q4 and Q1 exceeding pre-pandemic levels, according to Placer.ai.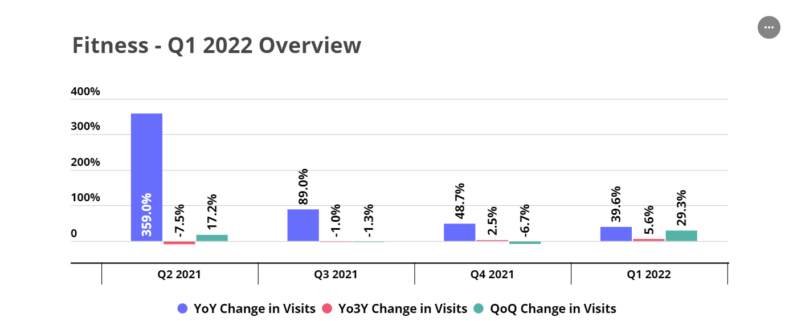 An important point to note here is that Gen Z is leading the way with 87% of the demographic exercising three or more times per week, making them an "overwhelming majority in the fitness market, representing 80% of all gymgoers," according to research.
In addition, the focus from consumers on health, rather than aesthetics, fits in with the Planet Fitness policy of a "Judgement Free Zone," and the company is capitalizing, looking primed to capture market share.
The Inflation/Pandemic Boost
Planet Fitness was able to grow its customer base during the pandemic, ending 2021 with 15.2 million members, a 1.7 million-member increase since the end of 2020, and exceeding the 14.4 million members reported at the end of 2019 (pre-pandemic).
And with inflation soaring, it has grown even further, registering 16.2 million members at the end of the first quarter of 2022.
As consumers continue to trim unnecessary expenses, in favor of cheaper alternatives like Planet Fitness which costs as little as $10 per month, Planet Fitness looks well-positioned to continue its growth. Furthermore, the company recently announced a deal to expand its brand into New Zealand.
Bottom Line
Despite the challenging environment, we expect Planet Fitness to remain resilient as consumers reduce spending and opt for cheaper alternatives.
Its member and store growth is evidence of its increasing popularity amongst consumers and its low price compared to competitors means it is perfectly placed to capitalize in the current macro environment, making it a potentially inflation-proof stock. However, investors will need to be aware that many consider the stock overvalued, and despite the positive outlook, many analysts lowered their price targets following its first-quarter earnings.