Key points:
ITM Power shares have fallen 20.15% in 2022 but recently turned higher.
Many argue that ITM shares are richly valued, which is entirely accurate.
The hydrogen company is building a new electrolyser facility in Sheffield.
The ITM Power plc (LON: ITM) share price has fallen 20.15% in 2022 and could be much lower were it not for the recent 12.9% rally in the past month.

The hydrogen power company possesses a unique electrolyser technology that allows it to generate hydrogen power from water without relying on fossil fuels like many other hydrogen generation methods.
ITM's process also does not emit harmful gasses into the environment, significantly boosting the company since it qualifies as a sustainable firm.
However, the hydrogen company has a valuation of £1.94 billion at its current price,w which is quite expensive given that it generated a mere £4.3 million in revenues during the 2021 financial year.
Analysts predict that the company's revenues could surge to £64 million in 2023, a 1,520% increase compared to 2021 figures, but still a tiny amount compared to the firm's valuation.
The massive discrepancy between ITM Power's valuation and revenues means that the stock will always be volatile as investors struggle with its lofty valuation in the face of low revenues.
ITM Power recently announced that it would build its second electrolyser facility in Sheffield, South Yorkshire, UK. The plant will be the largest electrolyser facility globally, raising ITM's power output to 5GW by 2024 and will employ 300 people.
However, the plant may not hold on to its title as the world's largest electrolyser plant. Such plants are being built in many other countries, with another Australian project being built by Plug Power, one of ITM's competitors, breaking ground in February.
The constructors of Australia's largest electrolyser plant in the Bowen Basin, a major coal-producing region, confirmed the plant would be powered by solar and wind energy, making it a fully-green project.
Hydrogen power companies are richly valued due to the significant potential of using hydrogen as a power source globally to reduce the world's reliance on fossil fuels such as crude oil and coal.
Still, one could argue that ITM Power's valuation and that of its peers is normal within the industry, similar to the trends in electric vehicle manufacturers that are more richly valued than legacy automakers.
*This is not investment advice. Always do your due diligence before making investment decisions.
ITM Power share price.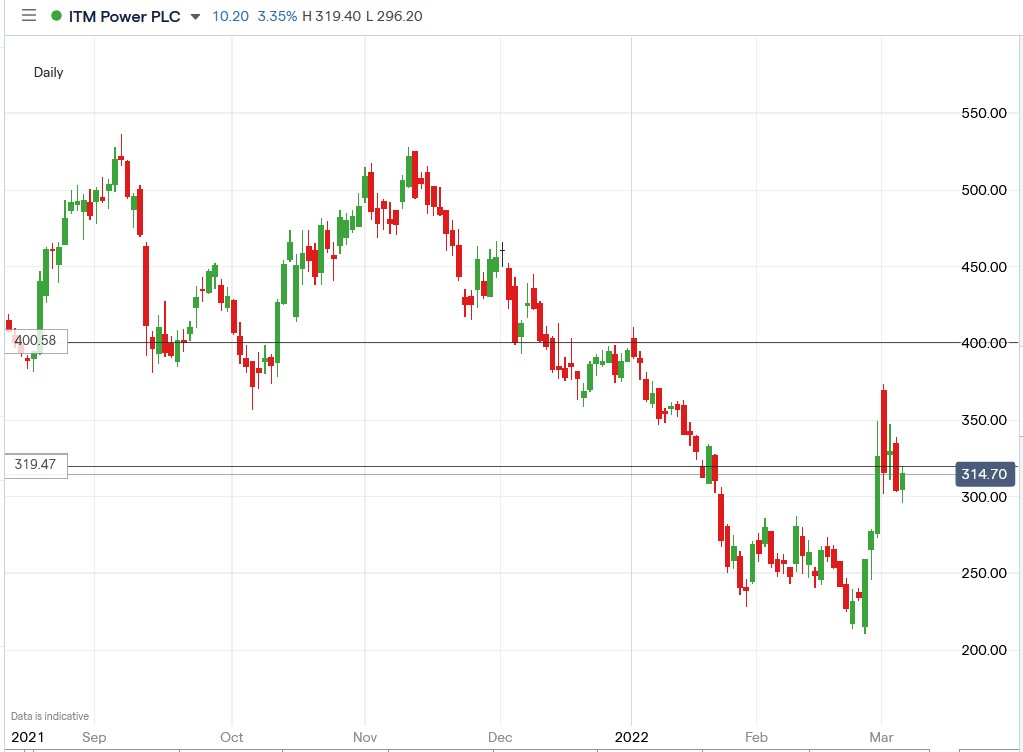 ITM Power's share price has fallen 20.15% in 2022 but recently surged 12.9% in the past month. What's next?