Shares of British leisure travel company Jet2 PLC (LON: JET2) fell 8.2% after the company announced that it had raised £422 million via a share placement equal to 20% of its issued share capital.
The company raised funds by issuing over 35 million shares at 1180p apiece, a 9% discount to Thursday's closing price. The shares are expected to debut on the markets on February 17, 2021.
The leisure travel airline that was previously known as Dart Group said that it would use the money to boost its working capital throughout the current lockdown measures that negatively impacted its operations and flights.
Like many other airlines, Jet2 has had to cancel many flights as the UK government banned flights to some of its main destinations due to the emergence of new variants of the COVID-19 virus that may jeopardize its vaccination efforts.
Jet2 had £479 million in cash at the end of January, separate from the money collected for booked flights and cancelled reservations. The money raised yesterday will leave the company in a stable financial position.
Philip Meeson, Jet2's Executive Chairman, commented:
"Based on the indicative scenario planning undertaken by management, the Board believes that the proceeds will provide sufficient liquidity on an extended and likely unpredictable shutdown basis to deal with this continually challenging trading environment."
Adding:
"Furthermore, the Directors believe the Fundraise will enable management to continue to adopt a decisive, but prudent, responsible financial management approach; take longer-term strategic decisions to support sustainable long term profit growth, and improve the ability for Jet2 to exit the pandemic in a stable commercial position so that it is well-positioned to capitalise on the upturn opportunity when it arrives."
Jet2 share price.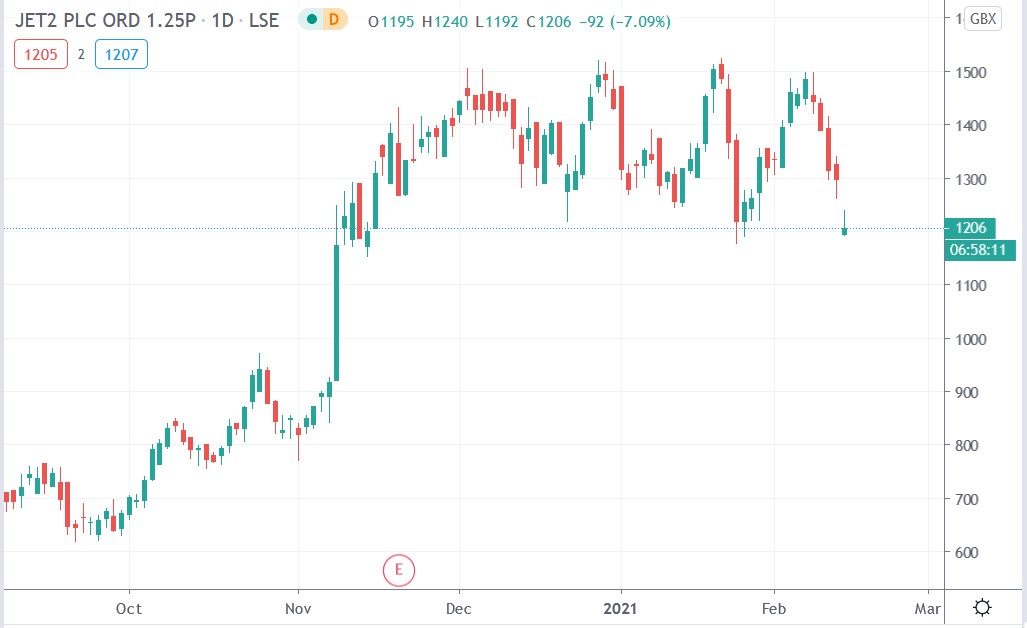 Jet2 shares fell 8.17% to trade at 1192p having dropped from Thursday's closing price of 1298p.