Shares of Kanabo Group Plc (LON: KNB) spiked 223% higher after the medical cannabis device maker listed on London's primary market earlier today at 6.5p making it the second cannabis firm currently listed on the LSE.
The company produces and sells the medical-grade VapePod, which can be used in combination with high-quality cannabis extract formulas by patients with medicinal cannabis prescriptions. It got regulatory approval in Israel.
Kanabo is headquartered in Israel and was founded in 2018 by Avihu Tamir who had prior experience importing and selling flower vaporisers for use by patients in Israel's medical cannabis programme.

Tamir was part of the programme in 2012 when he spotted the need for vaporisers to help patients with medical cannabis prescriptions use the product without having to 'roll a joint' as was the case then.
The company's VapePod is the only vaporiser that can deliver a measured dose of a cannabis extract product globally and has an addressable market value of up to €500 million over the next four years.
Kanabo listed on the London Stock Exchange (LSE) via a reverse merger with Spinnaker Opportunities PLC a shell company that will now trade under the Kanabo Group Plc name.
The company raised £6 million via today's IPO. The money will be used to market its wellness product range and launch the first clinical trial on a cannabis vape formulation.
Avihu Tamir, Kanabo's CEO, said: "We had considered other markets but chose the LSE for its deep access to capital and while it has taken longer than expected, or wished, we were sure we would be approved and that we would see cannabis companies on the LSE,"
Tamir added that he expects at least 50 cannabis companies to list on the LSE in the next few years in an explosion that could make London a major hub for cannabis companies.
Kanabo Group share price.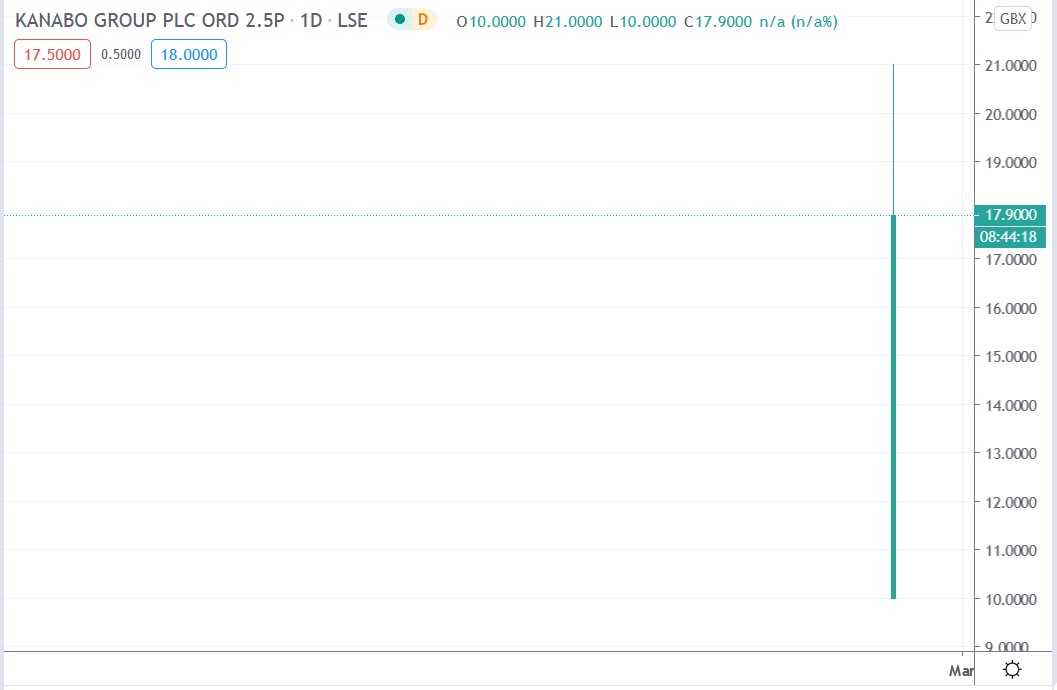 Kanabo Group shares spiked 223% higher to trade at 21p rising from its IPO price of 6.5p.