Key points:
Squarespace shares plunged  35.1% premarket on weak 2022 forecasts.
However, the website hosting company site had excellent Q4 2021 results.
As a result, the stock recouped much of its losses after the market opened.
The Squarespace Inc (NYSE: SQSP) stock price plunged  35.1% after its Q4 earnings results, beating analysts' expectations.

However, investors were more interested in the website building and hosting company's forecasts, all of which missed analysts' expectations leading to the selloff.
As a tech company whose performance is judged based on the growth it can achieve in future, investors tend to punish such firms when their forward guidance falls below expectations.
Squarespace revealed that it generated $207.4 million in revenues during Q4 2021, a 20% improvement to last year's figures, while its commerce revenues rose 45% to $64.2 million.
The tech company incurred a net loss of $16.3 million from pretax earnings of $33 million.
However, the company's full-year figures were not as good after generating revenues worth $784 million, a 26% improvement to 2020 figures, but reported a net loss of $249.1 million.
The firm had $526.6 million in debt at the end of 2021 but had cash, and cash equivalents were $203.2 million.
Still, the firm's weak forecasts triggered the selloff in its shares. Squarespace expects to generate between $203 million and $205 million in sales during Q1 2022, which fell shy of analysts' estimates of $216.75 million.
Investors were not pleased to hear that the company expects to generate revenues worth $862 million to $878 million in the 2022 financial year, which is way below analysts' consensus estimates of $934.56 million.
Unfortunately for Squarespace, growth stocks have had a rough time this year as investor sentiment shifted favouring more stable economic sectors such as utilities and energy companies benefitting from rising crude oil prices.
Squarespace shares had recouped most of their losses at publishing after the market opened. Investors had a change of heart towards the company, which had positive Q4 results. They may have realised that the tech company's projections were above last year's results, which is a good thing despite not meeting analysts' expectations.
Anthony Casalena, the Founder and CEO of Squarespace, said: "2021 was an incredible year for Squarespace that exceeded our guidance, as we delivered record revenue and total unique subscriptions. Our 2021 results demonstrate the investments we have made are generating strong returns, and we will continue to lean into our platform and focus on the growth opportunity ahead of us."
*This is not investment advice. Always do your due diligence before making investment decisions.
Squarespace stock price.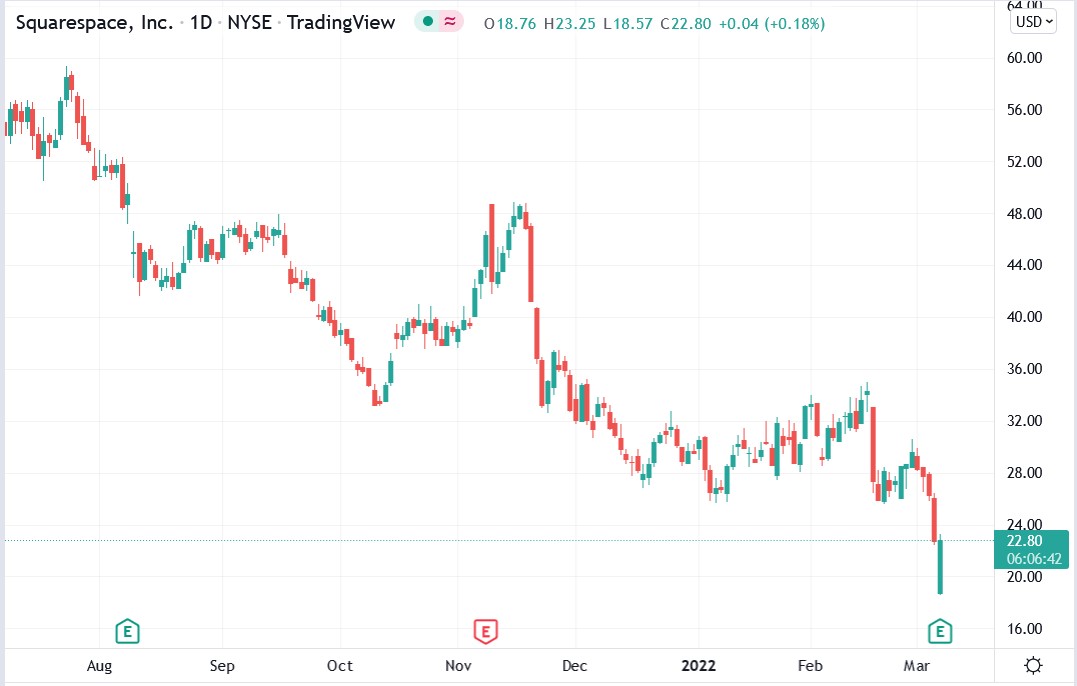 Squarespace stock price plunged 35.10% to trade at $14.77, falling from Friday's closing price of $22.76.