Key points:
Kyndryl Holdings shares traded sideways despite the Nokia partnership.
Investors largely ignored the news leaving Kyndryl shares trading aimlessly.
Kyndryl shares look attractive at current prices after a massive decline.
The Kyndryl Holdings Inc (NYSE: KD) stock price traded sideways after unveiling a new partnership with Nokia. The two companies will collaborate to offer special 4G LTE and 5G private wireless networks for industries.

The partnership will leverage Nokia's wireless networks speciality with Kyndryl's consulting experience to help companies improve their manufacturing and distribution capabilities by utilising IoT, artificial intelligence and cloud computing.
The two companies highlighted several proof-of-concept applications created for chemicals manufacturer Dow as evidence that its systems work. The firms also plan to offer other services, including core networks, fixed access, and IP networking.
Nokia will be offering its Digital Automation Cloud application platform, which focuses on private wireless connectivity and operational technology for manufacturing, airports, logistics, mining, ports, utilities and agriculture businesses.
Therefore, Nokia will play a critical role in the new partnership.
On the other hand, Kyndryl is working hard to distance itself from its parent company IBM, and the latest deal serves as proof that the firm can win new business and continue growing away from its parent.
Kyndryl moved fast to establish itself as an independent firm after signing cloud computing deals with major tech companies including VMWare, Microsoft and Google Cloud within one month following its late October 2021 IPO.
Paul Savill, Kyndryl's global practice leader for network and edge computing, said: "As enterprises across every industry are seeking new ways to digitally transform their operations, 5G and edge computing grow so they can harness the promise of these emerging technologies."
Nokia has prioritised the buildout of private wireless networks as its main competitive advantage as its mobile devices business lags other major smartphone manufacturers, including Apple and Samsung.
The company, which sells Radio Access Networks (RAN), grew its private wireless network client base to 420 customers by the end of 2021, representing a 61.5% improvement to the 260 clients it had at the end of 2020.
Kyndryl shares look pretty attractive at current prices after falling from their IPO highs of $52 to their current lows of $15.7. I would buy the shares at current prices, but there are no guarantees that we won't get a further decline in future.
*This is not investment advice. Always do your due diligence before making investment decisions.
Kyndryl share price.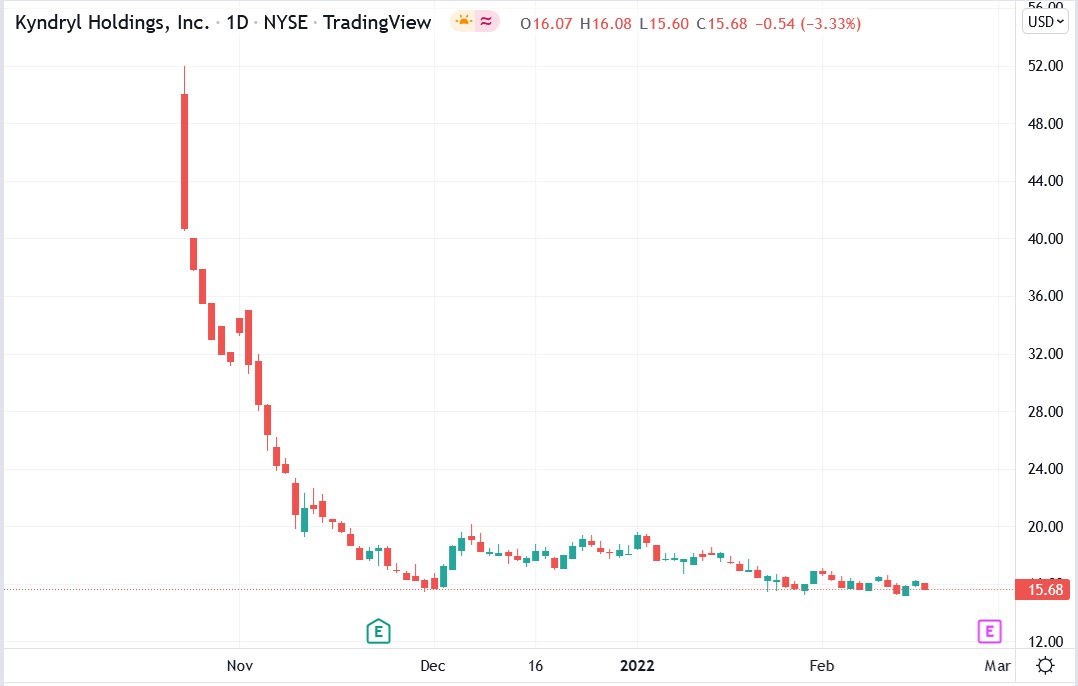 Kyndryl shares traded sideways at writing despite announcing a new partnership with Nokia.