Key points:
Wix.com plunged 15.13% premarket on Q4 and full-year 2021 earnings
Investors were disappointed that Wix.com did not turn profitable last year
The company's weak earnings guidance also contributed to its losses
The Wix.Com Ltd (NASDAQ: WIX) stock price plunged 13.6% after the SaaS platform reported its Q4 and full-year 2021 earnings, disappointing investors despite registering a significant improvement compared to fiscal 2020 figures.

The online eCommerce platform supporting creators and businesses alike reported a surge in new users converting into paying customers. Still, investors were unhappy with its guidance for modest growth in 2022.
Analysts at Guggenheim downgraded Wix.com to neutral from hold, saying that the company is a value trap since it is yet to become profitable despite surging revenues.
Wix.com generated full-year revenues worth $1.270 billion, representing a 29% increase from 2020 figures. In addition, the company recorded an improvement in all critical metrics, including creative subscriptions, which generated revenues worth $950.3 million, a 21% improvement to last year's figure.
The company's business solutions division generated $319.4 million in revenues, representing a 59% increase, with transaction revenues surging to $130.3 million, a 134% jump compared to 2020.
A significant highlight of the earnings report was that Wix's total gross margins were a whopping 62%, with the creative solutions leading with 76% margin and the business solutions division adding a further 20% margin.
Luckily for Wi.com, most of its revenues come from the creative subscriptions division, which means its overall margins will always be relatively high.
However, the company could not turn a profit despite the higher revenues as it reported a net loss of $117.2 million or $2.06 per share. Investors were unhappy with the firm's inability to register a profit despite higher revenues.
To compound Wix.com's troubles, the company warned that it expects to register modest growth this year and did not give guidance on its financial expectations citing the volatility witnessed in demand for online services in the past year.
The company says that it faces challenging comparable for this year given its impressive performance last year, which made investors question whether the firm will be profitable soon.
However, the company reassured investors that it has been making long term investments over the past 2 to 3 years that will fuel its future growth, which should be reflected in its future fiscal reports, especially in 2023.
Wix.com shares look attractive at current prices, but we could be in for further declines. Therefore, I would stay away until we get a strong trend reversal pattern on the daily chart, such as a double bottom.
*This is not investment advice. Always do your due diligence before making investment decisions.
Wix share price.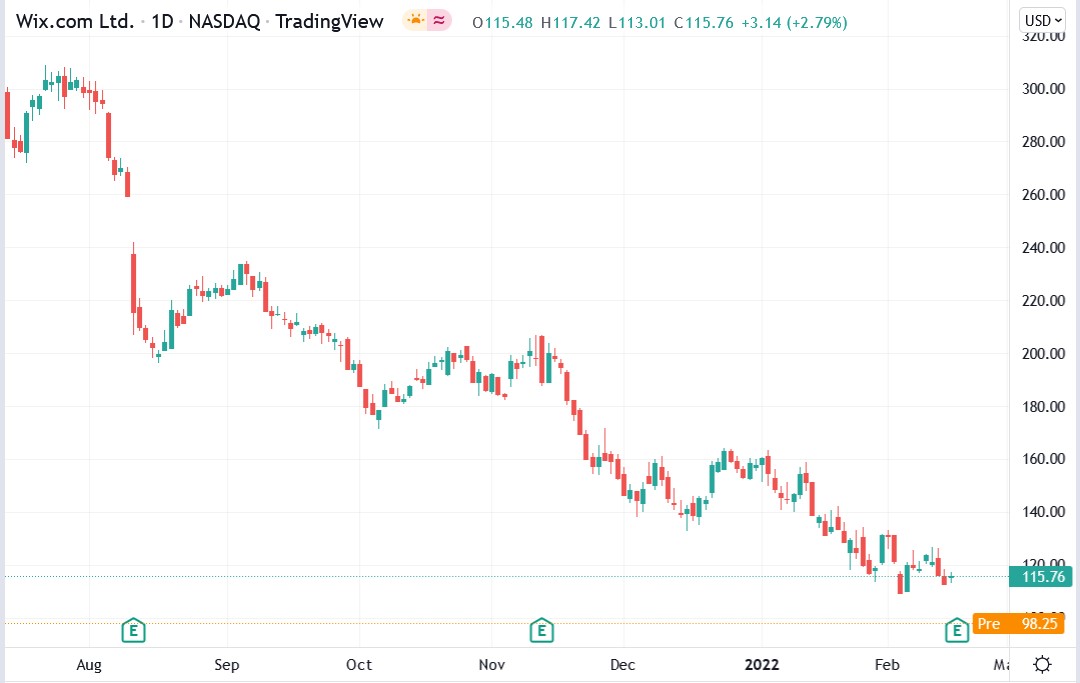 Wix stock had fallen 13.61% premarket to trade at $100.00, falling from Tuesday's closing price of $115.76.