Key points:
Magic Empire Global stock is up another 157% premarket
This follows the 2,000% rise after the IPO
This is like AMTD Digital, HKD, which did just the same last week
Magic Empire Global (NASDAQ: MEGL) stock has jumped 157% premarket this morning and undoubtedly will change again by the time you read this. The obvious assumption here is that this is AMTD Digital (NASDAQ: HKD) all over again. That is, there's no particular reason for this absurdly soaring share price, other than the fact that it is soaring. This means that we can't go evaluating MEGL stock by any of the investing basics. This is a crowd reaction and the only read we've got is of that crowd.

Magic Empire Global stock just arrived on the market on Friday. The IPO was priced at $4. Then the stock actually opened at $50 and after soaring to over $230 at one point dropped back to close just under $100. It's from that level that it's up that 157% premarket this morning. So, Friday, say a 2,000% and change rise, today it's more than doubled again. This is not what we'd call a wholly rational change in price. We've still got to work out why it happened of course.
The answer to that is almost certainly AMTD Digital which also IPO'd recently. That HKD stock started at $7.80 and went to $750 and then hugely crazier again. That then dragged up the parent company. AMTD Ideas (NASDAQ: AMTD) as they still owned 88% of HKD. No, no one really does know why, other than that it happened. Even the company has made a release saying they're mystified too.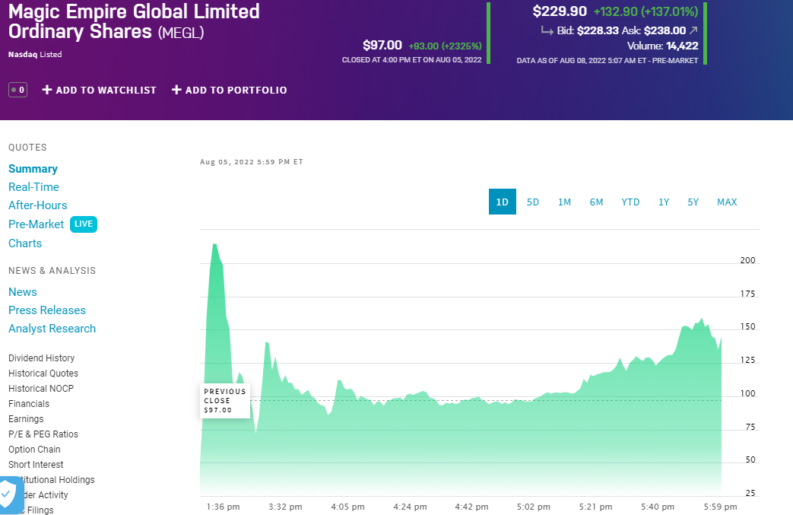 Also Read: 30 Global Stocks That Warrant Your Consideration
What we need to do is work out what actually is happening to MEGL stock. The best answer being that it's simply caught up in that craze of AMTD. It's easy enough to see how this can happen too. So, we've a large and raucus trading crowd out there – all those fanbois for GameStop, AMC and so on. There's hot money looking to leap on that next irrationality in the markets. AMTD Digital is a Hong Kong based something to do with finance (it's more like a business incubator than anything else) and its recent IPO has led to the stock up thousands of percent. OK, so here's Magic Empire Global wich is a Hong Kong based financial IPO (a "financial services provider") so why wouldn't that stock also soar thousands of percent? And the thing is, if enough people believe that, act as if it will be true, then it will become true. Which is exactly what has just happened.
Magic Empire Global is in the middle of a market frenzy and that's really all there is to the story. There's no underlying justification for the MEGL stock price. At which point we might well predict that it will come down again which, yes, it almost certainly will. However, there's always that difficulty of when it will – also, will it go further before it does? Shorting could therefore be an extremely painful experience.
The only real prediction to be made here is that Magic Global is riding the whims of the crowd. Where the MEGL stock price goes from here depends upon those whims.