Shares of British pub operator Marston's PLC (LON: MARS) are up 27% this year amid investor optimism about reopening the UK economy after the country's vaccination programme's success.
The acquisition offers from US private equity company Platinum Equity Advisors also boosted the pub operators stock price. The last offer was 105p, which was rejected by the company's board.
Marstons sunk into a loss last year but did much better than some of its competitors, who had to declare bankruptcy. The pub chain recently took over Brain's 156 Welsh pubs' operation, demonstrating its strong financial position.
The pub company's deal with brewer Carlsberg provided it with a capital infusion of £233 million and access to over £176 million in financing facilities. Despite the above achievement, the extended lockdown period means that the firm is not yet out of the woods.
Marston' board recently asked holders of class A secured notes to extend some covenant waivers to next year instead of H2 2021 as it projects that it will have strong cashflows once the UK relaxes most restrictions as planned in June this year.
The pub company's shares seem to have hit the ceiling at the 105p level after Platinum Equity Advisors said it would not be submitting a revised offer for the company. Marstons' shares are trading slightly off their 2019 highs, which indicates that the company is richly valued since its current operating conditions are not similar to 2019's.
Traders looking to establish new positions in Marstons' may be best served to wait for a substantial pullback or a sustained break above the 105p level.
Investors interested in shares of companies in the alcoholic beverages industry may find Fevertree a better investment. It remained profitable in 2020 and projects that it will grow its 2021 revenues by between 12% and 16%.
However, the company's shares are more expensive than Marstons' despite raising its annual dividend.
Martson's share price.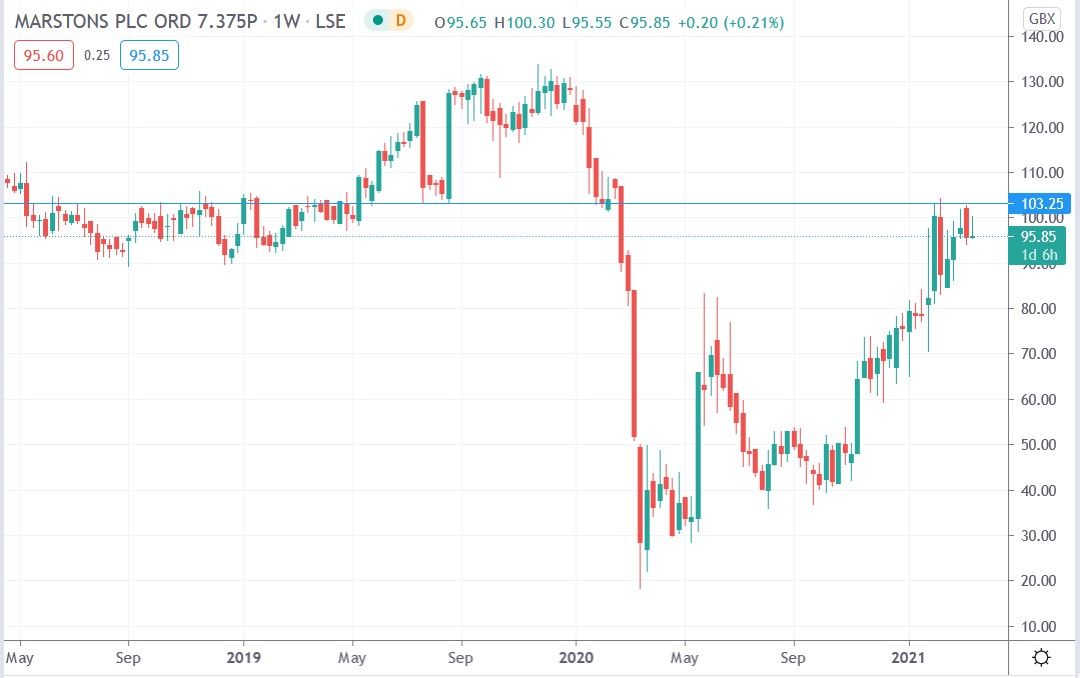 Marston's shares are up 26.98% in 2021 amid a surge in investor interest in the pub company that operates in the suburbs.