Key points:
The MicroStrategy (MSTR) stock has fallen by 52.4% in one month.
The stock could have bottomed if Bitcoin had also done the same.
However, we could see higher prices in future if Bitcoin rebounds.
The MicroStrategy Incorporated (NASDAQ: MSTR) stock price has fallen over 52% in the past month, driven by the selloff in the crypto markets after the catastrophic crash of TerraUSD and the LUNA Token.

However, despite the recent decline, the company's CEO, Micheal Saylor, recently said in an interview with Yahoo Finance that he was not selling any of the company's stock of bitcoins and that he expects the world's leading crypto to trade at over $1 million in the future.
It appears that other executives at the firm agree with him after Leslie Rechan, a director at the company, bought 2,000 MSTR shares worth $408,000 on May 11, as the stock headed lower.
Timothy Lang, another MicroStrategy executive, bought 2,500 shares worth $500,000 in May.
As savvy investors, it is always nice to see company executives buying shares in their business, which shows that they believe in its prospects. However, this is not always the case. Sometimes, executives buy shares to portray confidence to the public despite significant problems in their company.
Therefore, the question remains has MicroStrategy (MSTR) stock bottomed? Let's look at the daily chart below and see if it can shed some clues.
The chart shows that MSTR stock bounced off the $152.53 support level on May 12, 2022, and has been trading above it since then. The shares seem to be headed lower again, and investors should expect a retest and bounce off the support level, which could trigger a rally higher.
However, a break and close below the $152 support level could indicate that we are in for bigger losses. Shifting our focus to Bitcoin's price, which was the primary driver behind the MicroStrategy stock rout, we find that BTC bounced off the $25,341 support level on May 12 and has since been trading above it.
Therefore, the only way that MSTR stock will break below the $152 support level is if Bitcoin heads towards $25,000 once again. Meanwhile, the bullish thesis remains in place for now. Hence, MSR stock might have bottomed and could be trading higher over the next few weeks.
*This is not investment advice. Always do your due diligence before making investment decisions.
MicroStrategy (MSTR) stock price.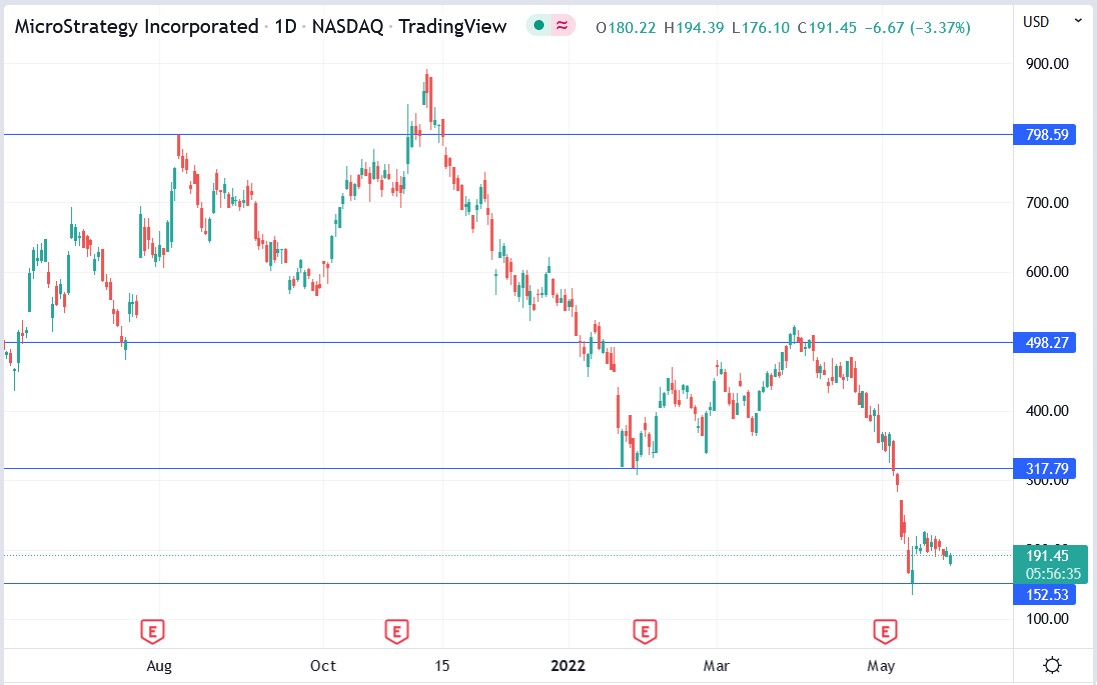 MicroStrategy (MSTR) stock has fallen 52.4% in one month amid the crypto market selloff.