Key points:
Mode Global shares rallied 25.8% after FCA approved new token listings.
The fintech company intends to add ten new tokens to the Mode App.
However, Mode's share price has fallen over 83% this year. Can it recover?
The Mode Global Holdings PLC (LON: MODE) share price rallied 25.8% after announcing that the UK's Financial Conduct Authority (FCA) has permitted it to add multiple tokens to the Mode App.

The fintech company intends to add ten new tokens to its platform by the end of the year. The app users can buy and sell the tokens, which include Ethereum, Solana, Cardano,  Polygon, Polkadot, British Pound Tether, Dogecoin, USD Coin, Cosmos and Tether. Mode will make the tokens available to users in phases.
Also read: 10 Top altcoins To Invest In.
The fintech company reminded investors that this is just the latest innovation introduced to clients this year after the rollout of an expanded cashback program in May. The cashback program allows users to earn Bitcoin rewards from hundreds of retailers.
Mode raised £2 million by issuing a convertible loan on 13 July 2022, also subscribed by its directors, leaving the company in a stable financial situation. The director's participation in the event showed their confidence in the firm's prospects.
Rita Liu, Mode Global's CEO, commented: "This expansion of tokens available on the platform will be a significant milestone for Mode, and the FCA's regulatory approval is, we believe, a testament to our secure and well-governed infrastructure, which makes this token expansion possible. We've created a safe and compliant ecosystem that allows people to interact with Bitcoin, actively or passively – however they choose. The fact that we can now extend this to more tokens is exciting – both for our growing user base and the crypto sphere more broadly."
Mode Global continues to push the boundaries of fintech innovation in the UK despite its shares falling over 83% this year. Most investors are hoping that the shares can recover in future. However, a recovery in Mode shares could be driven by a shift in investor sentiment towards the company and rising Bitcoin and cryptocurrency prices.
*This is not investment advice.
Mode share price.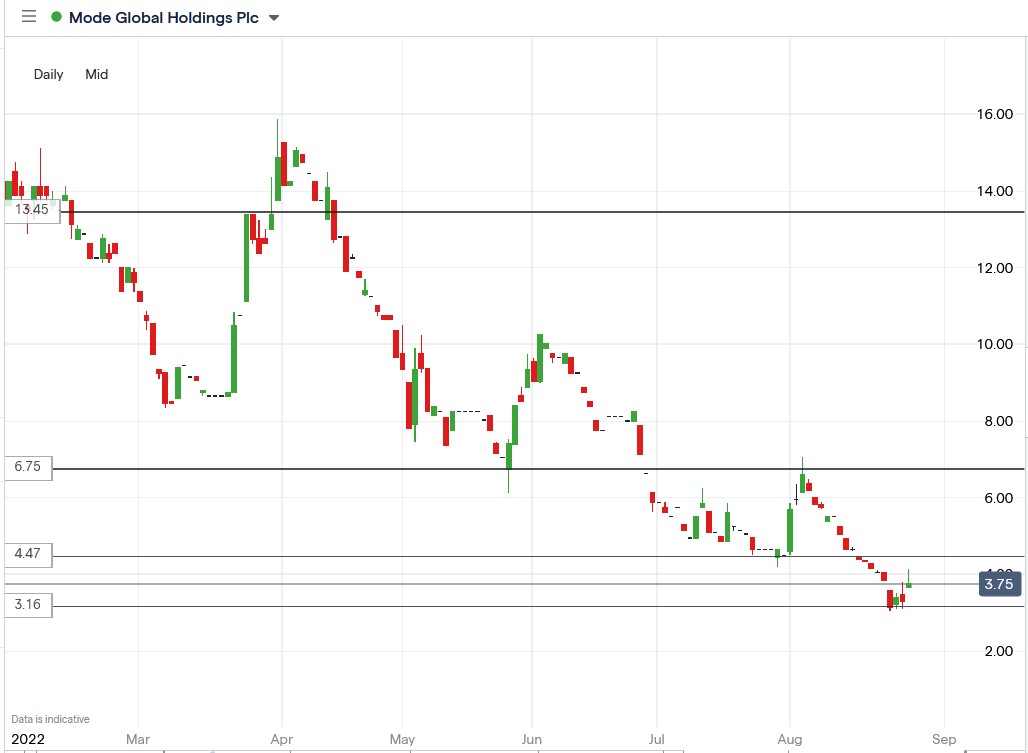 Mode share price rallied 25.76% to trade at 4.15p, rising from Thursday's closing price of 3.30p.