Key points:
Micro Focus is up 92% on a bid offer
Is there still a small margin to be had under the OpenText price offer?
How much do we have to worry about political interference?
Micro Focus (LON: MCRO) shares are 92% up this morning on the announcement of a cash bid for the company from OpenText (NASDAQ: OTXT) whose shares are down near 5% premarket. The offers is at 532p and the current at least share price for MCRO is 516, which leaves a small amount of room to take a turn or margin on this. But how long that will last this morning is unknown.

There is still risk to this which is unfortunate – for the risk is political risk. That's difficult to work out in advance because politics is a febrile place – we just never do know what the politicians are going to do. And sadly it is that politics that matters here. It shouldn't, there are no national security issues here but when has that ever stopped someone throwing their weight around?
The bid is in cash. It's also at that 95% and change premium to the price before it became known. This is clearly an attempt at a knockout blow to make sure that no one else tries to enter the fray with a higher bid. It's a useful assumption to make that with that sort of premium there won't be another bid. But do note that's an assumption, not a certainty.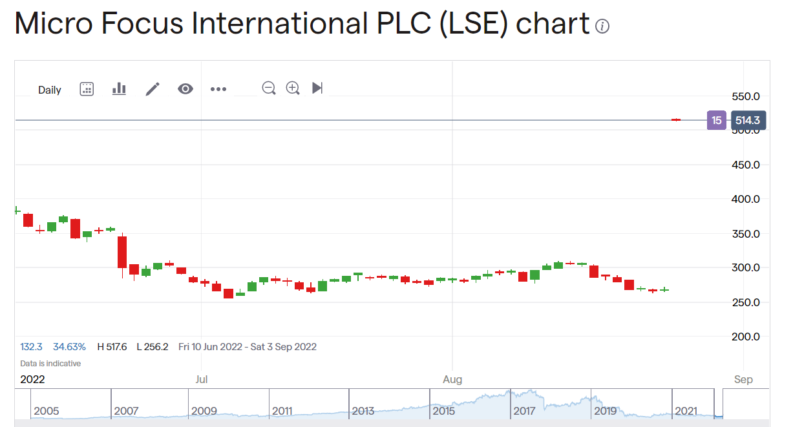 Also Read: The Best Data Stocks To Buy Right Now
One issue is whether we should just buy in to take what's left of the takeover premium here. At the moment of writing there's still 16 pence to be had. That's 3%, which looks good for what could be perceived as no risk. But this deal is going to take time and with the current inflation rate of around 1% per month time is the one thing we're short of. For any position must make 1% a month for us to be making a real return so 3% over some unknown number of months might not meet desires. That's a decision for each trader of course.
There is also still this political risk. Micro Focus is itself what might be called a roll up. Slightly unfashionable – not leading edge – business style programming companies aren't expensive. So, buy them up, centralise many functions and thus reduce costs, why not? There's still money to be made by sweating that installed base even if there might not be much growth in it. The bid here can be seen as Micro Focus, the roll up, being rolled up.
However, the politicians have the bit between their teeth. There's the new National Security Act which means the Business Secretary can call in any bid or even share purchase on vague security grounds. Plus there's a lot of muttering about how London doesn't have many tech stars. Micro Focus isn't a tech star, it's a roll up sweating old assets but that might not stop people. So too people forget that stock markets are where a business comes to sell itself – if someone wishes to buy it then that's rather the point.
But it is possible that this bid will get called in. How much possibility we should ascribe to it, well, that's for the individual. How rational do we think the government is going to be?