Key points:
Mode Global shares rose 5.9% after converting loan notes into shares.
Investors cheered the move due to the higher prices of the new shares.
However, the current crypto winter continues to weigh on Mode's prospects.
The Mode Global Holdings PLC (LON: MODE) share price rose 5.9% after it received and accepted a conversion notice regarding the convertible loan notes issued on 13 July 2022, which raised about £2,000,000.

The company noted that a noteholder had requested to convert loan notes worth a principal amount of £69,056, leading to the issuance of 1,890,037 new ordinary shares of 1 pence each. The new shares were issued at a conversion price of 3.93p each.
Also read: Best Financial Stocks To Buy Right Now.
Investors cheered the conversion notice since the new shares were sold higher than yesterday's closing price. However, despite today's rally, Mode shares have fallen 86.3% this year amid the decline in Bitcoin and overall crypto prices, given that the fintech company is a massive supporter of crypto payments.
The company recently announced the addition of new tokens to its platform on 27 October 2022. In addition, Mode Global notified users that they could trade Ethereum on its app and that it would add Solana and Polkadot in the coming weeks.
Investors cheered the news, which increased the functionality of the Mode app and platform, but MODE shares kept falling after the news leading to the stock breaking below a crucial support level, as shown in the price chart below.
Investor sentiment towards companies that deal in crypto, such as Mode Global and Bitcoin mining companies, has soured significantly in the past few months, leaving many firms struggling to stay afloat amid a biting crypto winter driven by the current macroeconomic climate.
The rate hikes from most lending central banks led by the US Federal Reserve have caused liquidity in the financial markets to dry up, triggering a massive crash in Bitcoin and crypto prices. As a result, every corner of the crypto universe has been affected. Hopefully, the industry will recover once the global inflation levels subside and the central banks resume their easy money policies.
*This is not investment advice.
Mode Global share price.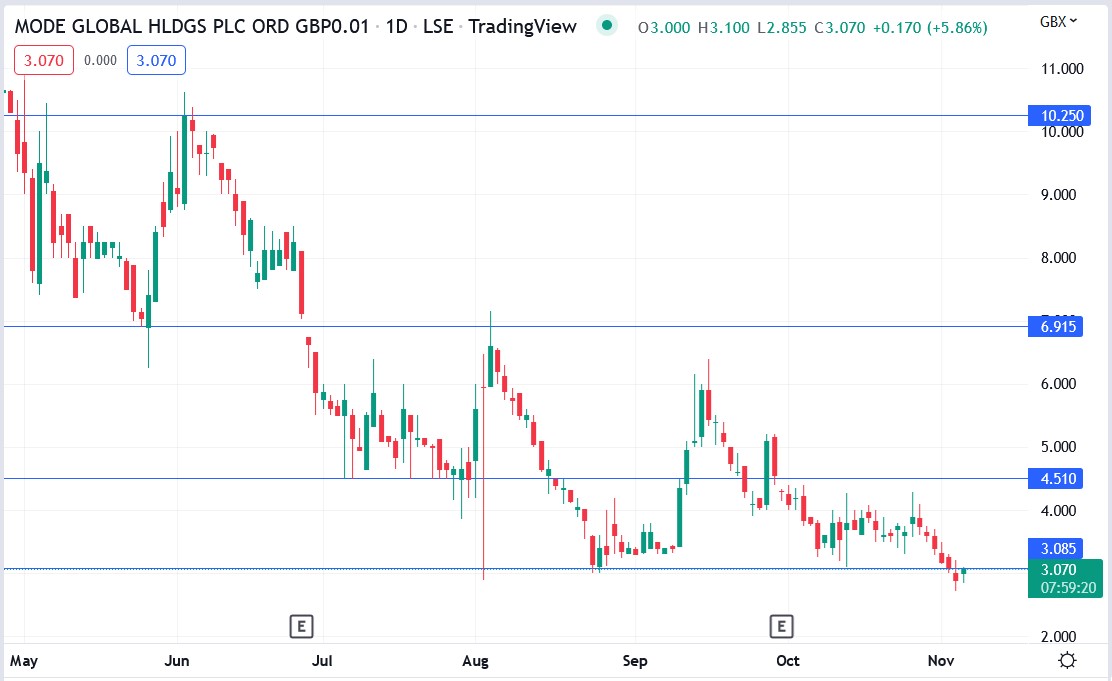 The Mode Global share price rallied 5.86% to trade at 3.070p, rising from Thursday's closing price of 2.90p.