Key points:
The NatWest Group share price should fall on the special dividend
It hasn't, at least not for that specific reason
So why has what should happen not happened?
NatWest (LON: NWG) shares are unchanged in London today despite the special dividend. The true explanation of this is fashion, nothing but fashion. For if a company pays out a special dividend – one that, by definition, is not to be repeated – then the share price should fall. Because there's now less money inside the company and more outside it, obviously enough. NatWest has just paid a special dividend, therefore the share price should fall. It hasn't, not today at least, and the reason is fashion.

British banking is doing better so there's strong support for bank share prices at present. That might seem strange on the cusp of a horrible economic winter ahead of us given energy prices but it is in fact so. For high inflation means the Bank of England is raising interest rates. Rising interest rates decompress banking profit margins. It's also true that inflation itself has much the same effect. Against that of course there are the possible losses from the economy going to pot but that's something that British banking is thought to be able to weather these days given the capital buffers.
Low interest rates – driven by QE and all that – meant that lending was done at very low rates. Rather the purpose of the exercise. But few would accept negative deposit rates. So, the gap between lending and deposit rates was crushed. And banks live off their interest margins, the difference between those two rates. As interest rates rise that minimum deposit rate of zero will rise, yes. But not as fast as lending rates – bank margins will decompress.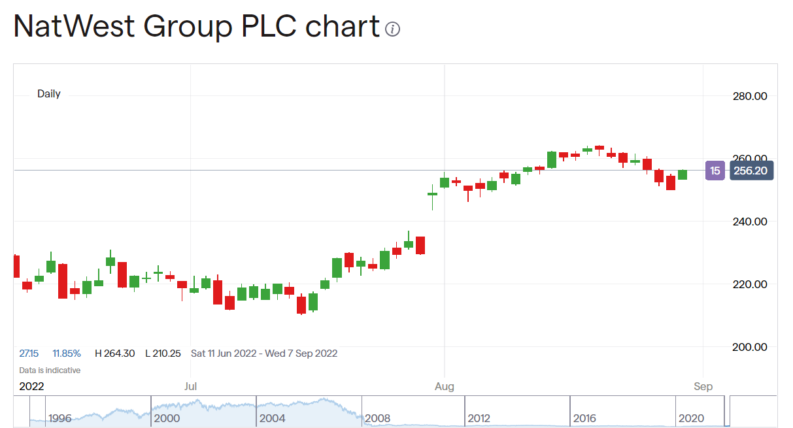 Also Read: The Best Financial Stocks To Buy Right Now
So, NatWest is doing better, there's a special dividend. That should mean the shares fall by the amount of the special dividend – that's just the way this all works. That dividend is 16.8p, the price should fall by that much. Now, the shares have fallen by more than that in the past couple of days. But that's not specific to this special dividend, that's just a general price move.
So, if the divvie is being paid, why haven't the NatWest shares moved as we expect them to? The answer being that NatWest is following something of a new fashion. They're having a share consolidation. This is when we simply change the number of shares in issue. Here, everyone who used to own 14 NatWest shares now owns 13. Which seems a pretty trivial change so why bother?
Sure, serious consolidations – or even share splits – can make sense by moving a share price hugely. Getting it into some preferred range. But 14 for 13? Why?
The answer being that management wants the NatWest share price before the special dividend to be directly comparable to that after it. So, pay out 16.8p, adjust the number of shares in issue by about what is right to make up that 16.8p and the graph of the share price won't have a little jiggle in it. And that really is it, that's the whole point, to avoid a jiggle in the share price chart. We saw this from Glaxo over the Haleon demerger too. It's just one of those fashionable things to do. Shrug.