Key points:
Natwest shares have fallen 11.3% in one month amid selling pressure.
However, the bank's fundamentals remain strong as operating conditions improve.
As a result, NWG shares could rally higher at any time, giving traders decent returns.
The Natwest Group PLC (LON: NWG) share price has fallen 11.3% during the past month in an inexplicable move as the UK banking industry enters a new season characterised by rising interest rates.

One of the most straightforward reasons behind the decline could be that the British government, which owns a significant stake in the bank, has been selling shares in the open markets, fueling the move lower.
The last time Natwest released figures about its shareholding, her Majesty's government still held a majority stake in the bank at 52% of the total outstanding shares. However, everyone knows that the government is keen to offload its shares at reasonable prices.
Therefore, we can expect the government to keep selling every time there is a significant upward move in NWG's share price.
Looking at the daily chart below, we can see that NWG shares rallied to a high of 254p in mid-January, followed by heavy selling. In early February, the same scenario played out after NWG shares had rallied to the same level, where another selloff ensued.
Most investors were pleased with Natwest's upbeat full-year earnings results on 18 February 2022. The banking group generated a £4 billion profit compared to the £481 million loss recorded in 2020, but this was insufficient to trigger a rally to new highs.
Instead, Natwest shares have been falling since then, so they are now down 11.3% in the past month. So we can safely assume that the government may have been selling some of its shares. Still, this is mere speculation until we get a confirmation from the company or the UK's Government Investments division.
The daily chart below also presents another opportunity to traders since NWG's share price has fallen into oversold territory according to some indicators and could be preparing to surge higher.
I would buy the shares based on the price action seen on the daily chart, either at the 207p level or when they break above the 220 level, which is the most immediate resistance zone.
Natwest's operating conditions are improving fast as the banking group's management team led by CEO Alison Rose steer the firm back to profitability. Hence, we can expect NWG shares to rally higher in future.
Meanwhile, investors are looking forward to updates regarding the government's current shareholding in the bank formerly known as the Royal Bank of Scotland. Therefore, I would be looking for trading opportunities based on the above criteria.
*This is not investment advice. Always do your due diligence before making investment decisions.
Natwest share price.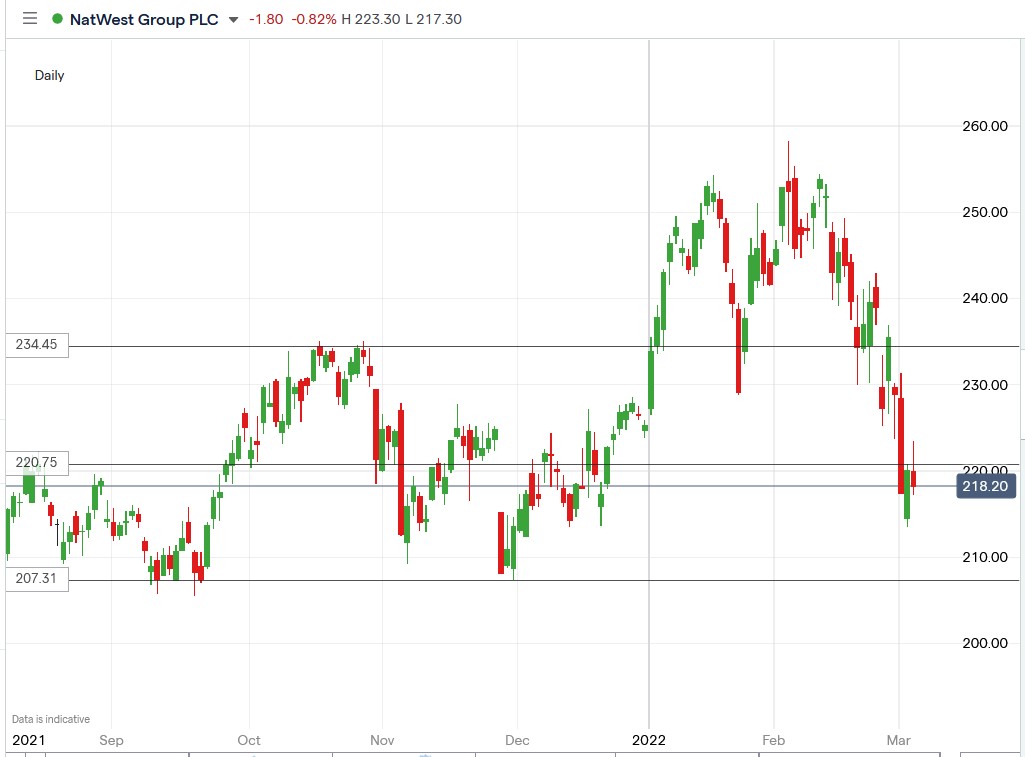 Natwest (NWG) shares have fallen 11.36% in the last month and are trading below a crucial resistance level.