Key points:
The Norwegian Cruise Lines' stock price has fallen by 11.9% in 2022.
Still, the shares have formed a bullish pattern that could fuel a rally higher.
In addition, the firm is set to release its Q1 results tomorrow.
The Norwegian Cruise Line Holdings Ltd (NYSE: NCLH) stock price has fallen by 11.9% this year despite industry experts being largely optimistic about the company's prospects.

Investors holding NCLH stock might be wondering when the latest downtrend will end so that the stock can rally higher, rewarding them for their patience.
Luckily for investors, the long-awaited rally might be here sooner than they might have imagined, given that NCLH stock has recently formed an inverse head and shoulders pattern on the daily chart that could lead to more gains.
NCLH shares are expected to open much lower today at $17.80, the same level that triggered the cruise lines' last major rally in December 2021. We could see a similar situation play out this time if the industry optimism is anything to go by.
However, nothing is guaranteed in the markets as the cruise ship industry faces multiple challenges ranging from the Russia-Ukraine war to the ongoing threat posed by the COVID-19 pandemic.
There is still a lingering fear that some countries with high COVID-19 infection rates may reimpose some restrictions lifted earlier this year.
Recent news reports indicate that Norwegian Cruise Lines is currently negotiating with Italian ship building company Fincantieri to acquire six new cruise ships worth up to $4 billion. Still, the deal's final terms are yet to be agreed upon.
The move to acquire new ships shows that the company is confident in its prospects, especially future passenger numbers. It is counting on the resurgent demand for sea travel from holidaymakers who were forced to stay home for almost two years due to lockdowns.
Norwegian shares are doing much better than those of its competitor Carnival Cruise Lines, which have fallen by 20.8% in 2022 and seem to be headed lower. Norwegian is expected to announce its Q1 results tomorrow (May 10, 2022), and I expect the results to be quite positive.
The company must have benefitted from the lifting of most COVID-related travel restrictions by most western countries earlier this year. However, negative results will invalidate the bullish thesis.
*This is not investment advice. Always do your due diligence before making investment decisions.
NCLH stock price.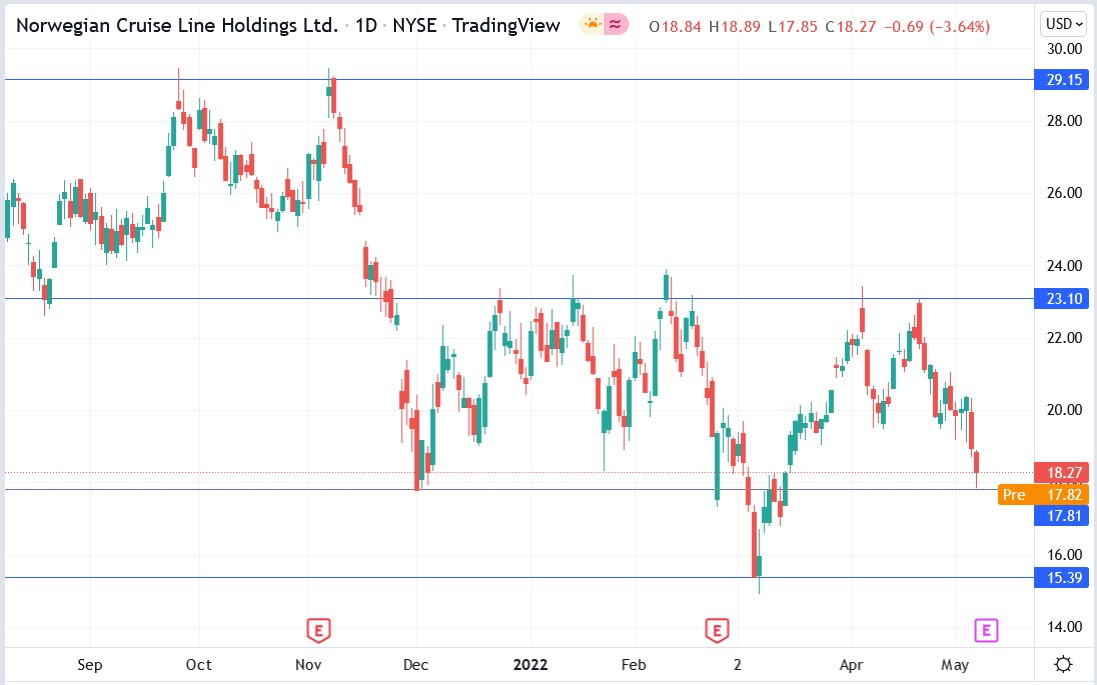 NCL stock has fallen 11.9% in 2022 but could start rising now.