Key points:
Novavax shares have fallen 37.5% this year before today's vaccine approval.
The approval of its COVID-19 vaccine could turn around its fortunes.
The shares appear pretty attractive at current prices, given their positive prospects.
The Novavax, Inc. (NASDAQ: NVAX) stock price has fallen 37.5% this year, and many are wondering if the stock can reverse course and head higher.

Luckily for investors, the company just achieved a significant milestone after the UK's Medicines and Healthcare products Regulatory Agency (MHRA) approved its COVID-19 vaccine for use in adults.
The vaccine has been approved after lengthy delays as the company took months to apply for regulatory approval. So while many were pleased with today's announcement, it might have come a bit too late.
A significant percentage of the UK population has already been vaccinated, and many wonder if there is room for the vaccine in the UK market.
Novavax also announced that it has applied for regulatory approval in the United States after a multi-month delay, which is a positive step, but it might be too late for the firm.
Almost 90% of the US population has received their first jab, which leaves only a tiny portion of the population eligible for the company's first jab.
However, a more significant percentage of the population is yet to receive the second and booster jabs, representing a significant market for Novavax's vaccines than the first jab.
Novavax shares were up slights at the time of writing, and I hope today's news shall serve as the crucial turning point for its share price.
The company currently has a pending order for 60 million doses of its vaccine, which could start it off in the right direction, but we hope to receive more orders as time passes.
The company's COVID-19 vaccine was created using the tried and test vaccine manufacturing protein subunit technology to create flu and common cold vaccines, a tried and tested manufacturing method.
The use of trusted technology could give the Novavax vaccine an edge over the Pfizer and Moderna vaccines manufactured using novel mRNA technology, which was first used in the COVID-19 vaccines.
Novavax vaccine could also be used as a booster shot. It has demonstrated effectiveness against the Omicron variant, which is a much larger market given the constantly emerging strains of the virus.
Many analysts expect the company to generate revenues worth $4.9 billion this year, which is an excellent result given that the company's current valuation is approximately $7 billion.
Therefore, investors might reap a decent return by backing the company at this crucial stage, significantly since its shares have fallen 37.5% this year.
*This is not investment advice. Always do your due diligence before making investment decisions.
Novavax stock price.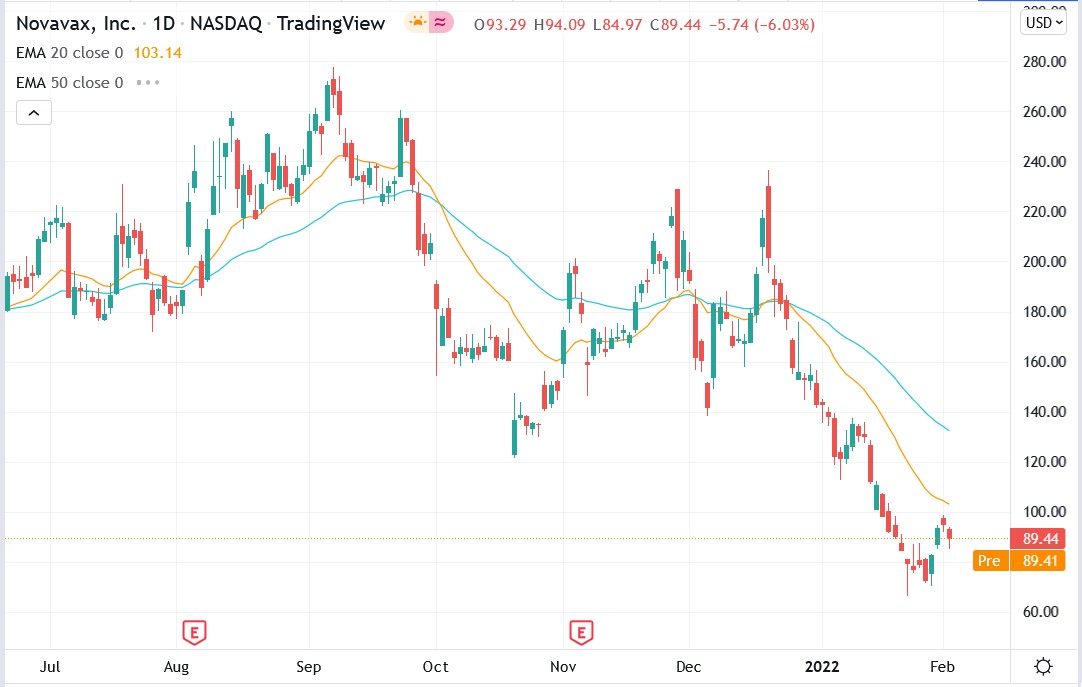 Novavax stock price has fallen 37.49% this year. Can the shares reverse course and head higher?